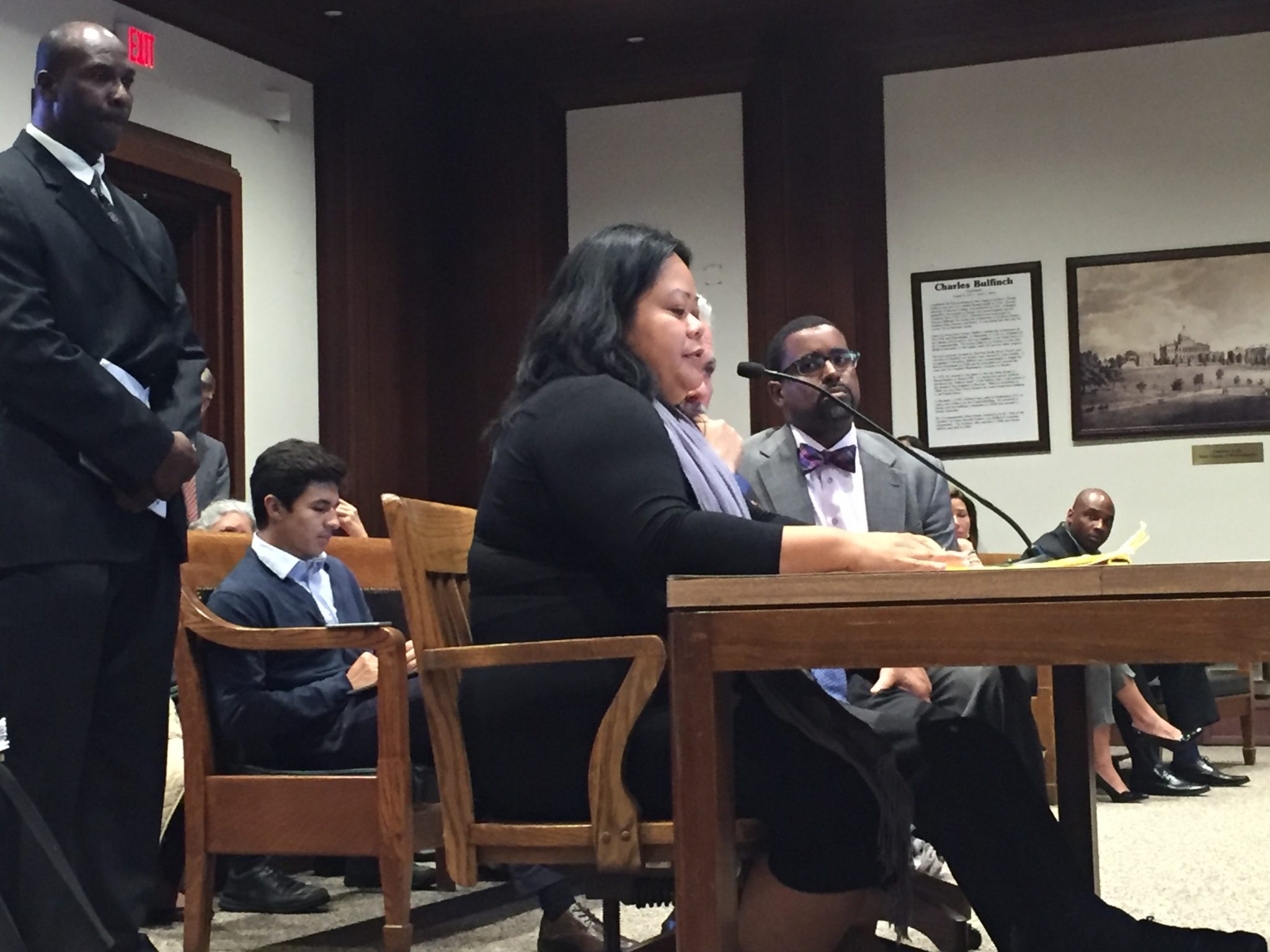 The ACLU of Massachusetts' Vira Douangmany Cage testifies about her family member spending five years in solitary confinement, as ACLU of MA Racial Justice Program Director Rahsaan Hall looks on. Donnell Wright is pictured standing behind Cage, awaiting his turn to testify.
Donnell Wright was placed in solitary confinement for "insolence to an officer." He talked back to a prison guard and because of that, he says, spent the worst months of his life in the agonizing hell of isolation. Wright couldn't talk to his family or even his lawyer while in the hole. He says he spent that time reliving the childhood trauma of witnessing his mother stabbed. Utterly alone, his demons took hold of him. As former federal judge Nancy Gertner said, an evil scientist couldn't come up with a better way of destroying a human being than denying him human contact. Donnell Wright, like the between 25,000 and 80,000 people inside solitary at any given moment in the United States, knows this too well.
Yesterday Wright told his story to hundreds of activists, advocates, and members of the public who gathered to listen to testimony on a range of criminal justice related bills at a hearing before the Judiciary Committee of the Massachusetts state legislature. The agenda was jam-packed; the committee heard bills on reforming solitary confinement, keeping parents convicted of non-violent offenses at home with their children, the videotaping of prisoner strip searches, and a comprehensive criminal justice system proposal called the Justice Reinvestment Act.
State Senator Sonia Chang-Diaz testifies in support of her bill, the Justice Reinvestment Act.
The latter bill, an omnibus reform package, would repeal mandatory minimum sentencing for drug crimes, reduce certain felonies to misdemeanors, end the practice of suspending the drivers licenses of people convicted of drug offenses, and allow the supervised community medical placement of prisoners with terminal illnesses. The bill stipulates that the financial savings from these decarceration initiatives would be invested in job training, counseling, education, and other reentry programming.
The hearing was emotional. Mr. Wright wasn't the only person to testify in support of criminal justice reforms that would have impacted him personally. Multiple women bravely told legislators and hundreds of supporters how it felt to be videotaped while they were strip searched inside the Hampden County Jail. Women who had been incarcerated for drug crimes and crimes of poverty spoke about losing their children—putting human faces to H.1382's call to create community-based alternatives to prison for primary caretakers convicted of non-violent offenses. One woman described how she was held for two months in pretrial detention because she couldn't afford the couple hundred dollars bail. She ultimately lost her youngest child to adoption because of the ordeal.
Also testifying in support of H.1382, a courageous young woman named Ayanna spoke about what it was like to grow up with her father in prison. She described the "loneliness, long car rides to the middle of nowhere, and silence." While one in twenty-eight American children has an incarcerated parent, she told legislators, one in nine Black American children like her can only see their parent only during rare, cold, alienating prison visits. "Children and parents give each other life," she said, asking legislators to move the legislation forward so that kids like her won't lose their moms and dads to the carceral state.
Ayanna testifies in support of legislation that would keep parents convicted of non-violent offenses at home with their children.
A woman named Tameika brought home the importance of each piece of criminal justice reform before the committee when she opened by saying that every single bill under discussion would have profoundly impacted her life. "I fit into so many of these categories," she said. "I have been incarcerated and lost my children. I've been videotaped [while being strip searched]. I've been in solitary confinement. I've been in addiction." Tameika wasn't the only person who became emotional while testifying about her experience in solitary. "I cry at night, still,"she said. "I am in therapy. I am on four different medications."Severe mental health problems are just a part of what results from "no human contact," she told legislators. The pain doesn't go away when you're released.
That's what makes reforming solitary important for our whole society, not just its victims, experts testified.
ACLU of Massachusetts Racial Justice Program Director Rahsaan Hall testifies in support of solitary confinement reform.
Experts including a former federal judge, law professors from several law faculties, representatives from the ACLU, religious leaders, and community lawyers added statistics, moral suasion, and national context to the heart wrenching personal testimony from solitary survivors. While S.1255 & H.1475 would not end the practice of confining human beings in isolation—a practice widely considered torture—they will go a long way towards limiting the practice in Massachusetts by ensuring that prisons and jails provide more due process to people ensnared in the system, and consistently report on the use of segregated confinement in their facilities. Donnell Wright testified that when he was locked up in the hole, he felt like he had been disappeared from human society. These reform proposals, if enacted, would be significant steps towards eradicating this inhumane practice.
Today the Governor of Massachusetts announces his proposal to address the opioid crisis in our great Commonwealth. His legislation focuses in large part on what doctors can do to limit opiate abuse, and help people who have already succumbed to addiction. But if Massachusetts is serious about addressing drug addiction, we need to massively overhaul our criminal punishment system—not just regarding drug use and abuse, but also when it comes to how we treat our fellow human beings.
In light of what we know about drug abuse and trauma, each of the reform proposals the Judiciary Committee heard yesterday would arguably go a long way towards addressing the social and economic crises that precipitate and exacerbate addiction. In a word, what these reform proposals have in common is that they seek to reduce the amount of trauma inflicted by the state on people arrested for drug crimes and crimes of poverty.
As recognized by the sponsors and supporters of the Justice Reinvestment Act and the other bills heard yesterday, traumatizing and making life more difficult for people in our communities who are already struggling on a day-to-day basis makes no one safer. If we truly want healthier communities, our criminal punishment apparatus must reflect that, and finally earn the moniker 'justice system.'
The time is now.