By Nancy Murray, 2016
I. Introduction
Twenty-first century 'homeland security' policing took over Watertown's streets during the hunt for those responsible for the heinous attack on the 2013 Boston Marathon.
The US Department of Homeland Security (DHS) has reportedly spent more than $740 billion since it was created in 2003, much of it to promote the collaboration of federal, state and local law enforcement agencies in intelligence-gathering activities, and to provide grants to outfit local police with high tech gear and military-style vehicles and weapons. The results were on display in Massachusetts, where some9,000 federal, state and local law enforcement officers were involved in the manhunt for the Marathon bombers. [1]
More than a thousand officers reportedly converged on Watertown on April 19, 2013 – one for every 30 or so residents. By some accounts the number was far higher. With the FBI taking the lead, this massive force included the Watertown police, Boston police and police departments from various parts of the state and as far away as New York City; university police; SWAT teams from around the state (including at least four from regional Law Enforcement Councils), the State Police SWAT team, MBTA Transit SWAT team, and an FBI SWAT team; ATF agents; the Massachusetts National Guard and the Massachusetts Air National Guard; and the US Marshals Service.
Several heavily-armed units arrived in armored vehicles. Military Blackhawk helicopters buzzed above the usually quiet suburb, and K-9 units were brought in to take part in the search.
"We had a lot of dogs here," said Watertown Police Chief Ed Deveau in the aftermath of the manhunt. "We had Boston, State Police, I think some municipal dogs and I know the federal people had dogs here, too. So we tried to do the tracking…But you can imagine there's so many people there, the scent or whatever was just trampled."
It appears, then, that the effort to use K-9 teams to sniff their way from the car abandoned by Dzhokhar Tsarnaev shortly after midnight to the boat in which he was hiding, only a quarter of a mile away, was defeated by the number of boots on the ground. The heavy-handed response had undermined its effectiveness.
Chief Deveau also said the out-of-town searchers were at a disadvantage because they were not familiar with Watertown's streets. "So when they're yelling he's on whatever street, 95 percent of the people that are here – if not more – have no idea what that street means."
And so rather than swiftly apprehending the younger Tsarnaev, the search went on for the next 18 hours. According to The Boston Globe, by 6 AM "Watertown resembled an armed camp. Armored trucks rumbled through its streets. Police by the busload and an array of tactical units assembled at the Arsenal Mall."
Police carrying military weapons spent the day going from house to house and conducting searches, while residents were 'sheltering in place.' The inhabitants of at least three houses were ordered out by paramilitary units, handcuffed and made to sit on the grass or placed in armored vehicles.
Finally, at 6 PM, although the suspect had not been located, the house to house searches were called off and the Governor lifted the 'shelter in place' order that he had imposed not just on Watertown, but also on Boston, Cambridge, Waltham, Newton and Belmont – an area totaling nearly a million people.
Soon after, David Henneberry, a Franklin Street resident, went outside to get fresh air and to fix the shrink wrap on the boat in his backyard that had become dislodged. When he climbed a ladder and looked into the boat he saw blood and a wounded young man.
After Henneberry called the police, a State Police Air Wing helicopter hovered above his yard for an hour or so as it monitored the movements of the man in the boat using thermal imaging and infrared devices. Then a call went out for a 'tactical team,' and a half dozen SWAT teams rushed to the scene. They proceeded to fire hundreds of rounds at the boat. The FBI's Hostage Rescue Team (HRT) – which despite being a civilian agency has participated in hundreds of raids in Iraq and Afghanistan alongside Joint Special Operations Command forces – used explosive devices to stun the suspect after a robot removed the tarp from the boat. An unarmed Tsarnaev was finally taken into custody at 8:45 PM.
Many Watertown residents responded to the news by taking to the streets to demonstrate their relief and to express gratitude to law enforcement officers who patrolled the frontlines at a time of considerable public fear and uncertainty about the extent of the threat.
But some residents were privately critical of the heavy-handed response. They told us they felt too intimidated to say no when SWAT teams asked to search their homes. One army veteran was alarmed to see that the dozen or so men in camouflage gear who roused him from bed at 5 AM had the safety catches off their AR-15 military assault rifles. Another resident removed political posters from his walls as a SWAT team approached his house. He feared anything that might appear controversial could get him in trouble.
In the year that followed the Marathon bombing, the law enforcement/first responder response to it was held up in Congressional testimony as proof that DHS funding promoting federal, state and local police collaboration and training has been worthwhile and should be increased. But while agreeing that "multi-dimensional preparedness" helped make "Boston Strong," a Harvard study[2] also describes a situation of chaos and endangerment that the manhunt brought to the streets of Watertown.
Events leading up to the bombing are also beginning to come into focus. A report by Inspectors General of Intelligence Services[3] documents the multiple reasons for the failure to prevent the terrorist attack after Russian intelligence issued a detailed warning about Tamerlan Tsarnaev that the FBI only cursorily investigated and did not proactively share with its state and local partners. Numerous questions have been raised, including about whether the bombing could have been prevented if the police had devoted more time and resources to solving the particularly vicious murder of three people in Waltham in which Tamerlan Tsarnaev was subsequently implicated by anonymous law enforcement officials.
In the month after the bombing, then-Boston Police Commissioner Ed Davis told the House Committee on Homeland Security that he didn't know why the FBI failed to inform the Boston Police Department about its investigation of Tsarnaev, especially since there were four BPD officers on the FBI's Joint Terrorism Task Force. He also said he wanted to review the need to deploy more assets, "including technology, cameras, undercover officers and specialized units." But, he added, this need "must be balanced against the protection of our Constitutional liberties. I do not endorse actions that move Boston and our nation into a police state mentality."
Cops in the Commonwealth examines the data-driven inter-agency 'homeland security' policing that failed to avert the terrorist attack in Boston and the extent to which the nation – and Massachusetts – has already moved in the direction of 'a police state mentality' by increasingly using military equipment and tactics to conduct traditional law enforcement activities. The August 2014 military-style policing of protests in Ferguson, Missouri jolted many Americans into an awareness of the extent to which the apparatus of war has come home to their streets. As the 'war on drugs' merges with the 'war on terror,' and as weapons from more than a decade of war abroad become available for local police departments that want them, we may well be on a trajectory of an even greater level of militarized policing, with profound implications for constitutional rights.
What is the impact on civil liberties and civil rights when 'specialized units' such as Special Weapons and Tactics (SWAT) teams carry out increasingly aggressive policing in targeted communities?
How has the technology provided through DHS grants and the creation of a new architecture of surveillance affected local policing, and what happens to traditional crime solving methods and accountability when police become increasingly federalized and assume 'national security' functions?
What lessons should be learned from the inadequacies of those information-sharing systems and intelligence structures exposed by the Marathon bombing?
What reforms will simultaneously ensure public safety, reinvigorate democracy, and preserve constitutional freedoms and protections?
The Marathon bombing and its aftermath add urgency to the exploration of these questions by an informed public. What kind of a society do we want to live in?
Drawing upon documents released to the ACLU of Massachusetts pursuant to public records requests and a comprehensive review of available literature, Cops in the Commonwealth expands on the executive briefing released last June, Our Homes are Not Battlefields. It lays out issues that must be examined and law enforcement practices that must be rolled back if we aspire to a future that is both safe and free.
II. Fighting the 'war on drugs'
By their nature, SWAT teams tread a thin line between reasonable and illegal police conduct. [4]
A drug raid in Framingham
On January 5, 2011, 68-year-old Eurie Stamps, a retired MBTA worker, was killed in Framingham, Massachusetts after the Framingham SWAT team used battering rams and flash bang grenades to smash into his apartment at 12.30 AM.
The 16-member SWAT team was accompanied by six non-SWAT Framingham police officers, who came along to serve a warrant to search for cocaine and any "books, papers, records, documents, monies, implements and paraphernalia related to illegal possession and distribution of controlled substances." Critically, the warrant did not reference the presence of guns. Six members of the Framingham Fire Department's tactical emergency medical support group were also standing by. That brought the number of people involved in the middle-of-the-night operation at 26 Fountain Street to 28.
Was the target of the raid involving a force of such magnitude a major drug kingpin or someone wanted for violent crime? No. Twenty-year old Joseph Bushfan – Stamp's stepson who also lived in the apartment – was reportedly a small-time street dealer. He was arrested by the police outside the apartment before the raid began.
But it went ahead anyway. Eurie Stamps, clad in his pajamas, was shot in the back of the neck by Framingham SWAT team member Paul Duncan, who, according to Middlesex County district attorney Gerald Leone, was about to handcuff the elderly African American as he lay face down on the floor when he stumbled and accidentally shot and killed him. During the raid, Bushfan's cousin was arrested. In a search of the apartment, no drugs or weapons were found.
It took 63 days for Paul Duncan's name to be released to the public. Officer Duncan was exonerated when the district attorney's investigation ruled his death an accident. Within three months of the shooting, he was back at work. [5]
Some Framingham Town Meeting members urged the Police Department to disband the SWAT team, which had been formed in 2001. Instead, it was reduced in size from 18 to 12, and asked to post a policy statement issued in 2003 on its website and to increase monthly training hours from 12 to 18, on top of an annual in-service training of 40 hours. It was also required to file 'after action reports' and agreed to include information about SWAT deployments in the Town's 2012 Annual Report.
In addition to the police department's internal affairs investigation and that by the Middlesex County district attorney, the town of Framingham hired Major Steven Ijames, a retired police officer from Springfield, Missouri, to look into the circumstances of Stamps' death. An expert on SWAT teams who had personally participated in or supervised the service of some 3,000 search warrants, 150 'barricaded subject incidents' and 'seven hostage taking scenarios,' Ijames had also been part of the seven-member Stern Commission that investigated the killing of Victoria Snelgrove, who was hit by a FN303 'less lethal' projectile fired by Boston's Mobile Field Force during the 2004 celebration of the Red Sox pennant victory.
Ijames' exonerated the Framingham SWAT team in terms that raise significant questions about SWAT teams generally.
He did not fault the decision to use a SWAT team to serve a warrant at the Fountain Street apartment given information that suspects had "violent criminal histories" and sold crack cocaine. Indeed, he found that Framingham was unusually cautious in its SWAT team use. The team had been called out 14 times in five years, indicating that "the Framingham Police Department is far more restrictive in its overall philosophy on authorizing the use of SWAT than most agencies today…it is reflective of a level of caution and restraint that I rarely see in agencies today."
Nor did Ijames fault the SWAT team's overall operational practice and training. It trained 12 hours a month – "less than the 16 hours most part time teams attempt to maintain," but given its restricted use, this could be "adequate." However, the training Officer Duncan underwent did not prepare him for "a tense and uncertain situation, but one that is encountered on practically every search warrant in America today."
The difference between life and death for Eurie Stamps was an unconscious action by an officer who didn't activate the safety catch on his rifle because he had been trained "to decide when a threat is perceived or possible, and correspondingly decide when to remove the weapon from safe." Officer Duncan considered Stamps to be a potential threat when he appeared in the dark to be "laying on his stomach" with his hands "hovering by his head" and his "head moving up towards me…But what happens if there's a gun or something hidden anywhere and he just reaches quick?"
Acting in accordance with his training, Officer Duncan decided to go "hands on" with the subject and handcuff him before placing his weapon on safe – "at which point Officer Duncan moved to take physical control, lost his balance, and unconsciously pulled the trigger resulting in the discharge that killed Mr. Stamps."
Ijames suggested it was the kind of outcome that could have happened just about anywhere in the country when a drug warrant was being served – which is what at least 75 percent of SWAT team actions are about. He claimed that "a significant percentage of contemporary police agencies in America today provide the same or similar training" as that given Officer Duncan and "would have approved going and remaining 'off safe' in the same or similar fashion, and then interacted with Mr. Stamps in the same or similar way."
It should not, then, be surprising that at least 46 innocent people had been killed in SWAT raids before 2012.[6]
A drug raid in Boston
It doesn't take a bullet to produce a SWAT team fatality.
On March 25, 1994, Accelyne Williams, a 75-year-old African American Methodist minister, went into fatal cardiac arrest after a 13-member Boston SWAT team sledgehammered its way into his Dorchester apartment, chased him into his bedroom and handcuffed him as he lay face down on the floor.
Investigations by the Boston Police Department and Suffolk County DA placed no blame on the heavily armed men, some of them masked, whose violent entry into his home frightened Rev. Williams to death. A police source told The Boston Herald,"Everything was done right, except it was the wrong apartment." [7]
The warrant that was drawn up by the Suffolk County DA's office did not specify any apartment number. The SWAT team was acting on a bad tip from an unreliable informant who reportedly gave them the wrong apartment because he was drunk.
This was part of a pattern. As Radley Balko recounted, "A week after the Williams raid, media investigations discovered that three of the officers involved had been accused in a 1989 civil rights suit of using nonexistent informants to secure drug warrants. The three had erroneously raided the home of Jean-Claude and Ermite David in 1989, resulting in a $50,000 settlement from the city of Boston. According to one witness, Philbin apologized as officers were leaving the scene, telling the home's occupants, 'This happens all the time'."[8]
According to Balko, by the late 1980s it was clear that "Boston narcotics cops were routinely falsifying search warrants in drug cases – which means they were routinely raiding homes without probable cause. A Boston Globe review of 350 drug warrants found that fabrication of informants, exaggeration of probable cause, and boilerplate language was common. By one estimate, the number of drug warrants served by Boston police jumped from around 300 in 1985 to more than 3,000 by 1990."
Drug raids in Fitchburg
More often than fatalities, drug raids by SWAT teams produce property damage, which can be massive.
During a Fitchburg SWAT team raid on the apartment of a suspected drug dealer on December 6, 1996, flash bang grenades kindled a fire that caused the entire apartment complex to burn down, leaving 24 people homeless and injuring six of the police officers. After leaving the blaze, the SWAT team gave rough treatment to nine"loiterers" – mostly people of color – who later sued them for civil rights violations.
Formed in 1990, the Fitchburg SWAT team was disbanded in 1999.[9]
More recently, an FBI SWAT team – one of 56 which the Bureau possesses – came to Fitchburg to consummate a two-year federal drug investigation.
At 6 AM on January 26, 2012 they chainsawed through the door of her apartment and forced a terrified Judy Sanchez to lie on the floor in the urine of her equally terrified three-month-old puppy, while her three-year-old daughter screamed loudly from the bedroom. After 35 minutes, they figured out they should be in the apartment next door.
Sanchez eventually got an apology that she considered half-hearted, and was told to tell her landlord to call if he wanted to be reimbursed for the door. Receiving compensation for damage caused by botched SWAT raids is by no means guaranteed. And if a homeowner's or landlord's door is destroyed by a SWAT team exercising a valid search warrant, compensation under either federal or state law is highly unlikely.
SWAT teams in the frontline of the 'war on drugs'
These Massachusetts examples illustrate the kind of SWAT raid 'collateral damage' that policy analyst Radley Balko continues to document around the country. Balko, Peter Kraska,[10] Diane Cecilia Weber [11] and others have described the rise of police paramilitary units over the last 40 years. In 2014, the ACLU produced a reportbased on public records requests submitted to 25 states that reveals the extent to which policing has become "excessively militarized."
The first Special Weapons and Tactics (SWAT) team – the name 'Special Weapons Attack Team' was rejected[12] – was formed by Daryl Gates' Los Angeles Police Department as a 'special response' anti-sniper unit in the aftermath of the Watts riots and the 1966 mass shooting by Charles Whitman from top of the University of Texas' clock tower. The LAPD team was deployed against local Black Panthers in the late 1960s and against the Symbionese Liberation Army (SLA) in the early 70s.
Early on, SWAT teams were seen as reactive, specially-equipped units within local police departments that were trained to respond to rare 'high risk' situations involving civil uprisings, hostage-taking and the kind of terror that Charles Whitman inflicted on the Austin campus.
Their numbers, their mission, their relationship to the military, their weapons, and the spending capacity of their police departments were all transformed after the 'war on drugs' was declared by President Nixon in 1971 and vigorously pursued by President Reagan. The acceleration in the growth of SWAT teams paralleled the rapid expansion of the rate of incarceration, which has grown by 600 percent since 1970. And with the $1 trillion 'war on drugs' largely being fought in communities of color — despite the similar proportion of drug use among the white population – those communities have over the decades received a disproportionate share of both SWAT raids and prison time.
The numbers tell a stark story, as research conducted by Peter Kraska and Victor Kappeler in 1996 attests.[13] They found that 59 percent of the police departments that responded had a 'police paramilitary unit' [14] (PPU) by 1982, a figure that reached 78 percent by 1990 and 89 percent by 1995. The number of 'call outs' of these special units increased fivefold, as police departments from the late 1980s broadened the mission of PPUs to use them proactively to undertake adrenalin-fuelled 'no knock entries' with (or in many cases without) special warrants to search for drugs. These warrants dispense with the 'knock and announce' procedure that had been a customary part of Fourth Amendment jurisprudence. Kraska and Kappeler found that by 1995, drug raids made up over 75 percent of PPU activity. The number of SWAT deployments increased from 3,000 annually in the early 1980's to some 70,000 – 80,000 by early 2011 by some counts. The SWAT expansion continued even as the crime rate began a steady decline from the mid 1990s.
Driving these numbers was the 'war' mentality applied to confronting drug use primarily in communities of color, and the consequent blurring of the line between policing (trained to protect and serve communities and to respect rights guaranteed by the Constitution) and the military (trained to confront and defeat the enemy).
Radley Balko, who gave a more conservative estimate of 50,000 SWAT raids annuallyor 100 – 150 per day in 2013, contrasts the routine use of militarized raids on homes in communities of color regardless of whether particular targets had a history of violence with the FBI's peaceful arrest of Whitey Bulger. The Boston gang leader had been accused of involvement in 19 murders and, after 16 years in hiding, was believed to heavily armed. "Of all the people who might meet the criteria for arrest by a SWAT team, one might think that Bulger would top the list."
Blurring police and military roles
Peter Kraska defines militarism as "a set of beliefs, values, and assumptions that stress the use of force and threat of violence as the most appropriate and efficacious means to solve problems. It emphasizes the exercise of military power, hardware, organization, operations, and technology as its primary problem-solving tools…Police militarization, therefore, is simply the process whereby civilian police increasingly draw from, and pattern themselves around, the tenets of militarism and the military model."[15]
The merging of police and military roles was advanced by such legislation as the 1981 Military Cooperation with Law Enforcement Act, which carved out a "drug exception" to the 1878 Posse Comitatus Act. Posse Comitatus barred military personnel and military equipment from being used in domestic law enforcement except where explicitly authorized by the President or Congress. As one government official stated in Congressional testimony, the Military Cooperation with Law Enforcement Act enabled the military to "cooperate with civilian law enforcement agencies to the maximum extent practicable, consistent with the needs of national security, military preparedness, and the historic tradition of limiting direct military involvement in civilian law enforcement activities." The law permitted the sharing of military bases, equipment, research and training with federal, state and local law enforcement agencies, as long as the purpose was drug interdiction.
Military-police cooperation increased after President Reagan in 1986 issued a directive declaring drugs to be a threat to US 'national security.' The same year Operation Alliance formalized military assistance to law enforcement. In 1989, amendments to the Defense Authorization Act expanded the role of the National Guard in supporting local police in drug raids.
In the words of Radley Balko,
Symbolically, the National Guard bridges the gap between cop and soldier. Guard troops train like soldiers and dress like soldiers, and they are regularly called up to fight in wars overseas. But when they are acting under the authority of a state governor, Guard troops aren't subject to the restrictions of the Posse Comitatus Act. Giving the Guard a more prominent role in the drug war not only escalated the drug fight, it further conditioned the country to the idea of using forces that looked and acted quite a bit like soldiers for domestic law enforcement. [16]
The new policy came to Massachusetts at a 1990 Grateful Dead concert at Foxboro stadium, where the Massachusetts National Guard worked hand in hand with the police to identify likely drug offenders as an Army helicopter patrolled overhead.[17]
By then, Secretary of Defense Dick Cheney had made "the detection and countering of the production, trafficking and use of illegal drugs" a "high priority national security mission of the Department of Defense." At least three Joint Task Forces had been immediately established by the military to help patrol the borders and fight the drug war. According to Jim McGee, "By 1995, more than 8,000 soldiers, sailors and Air Force personnel participated in 754 domestic anti-drug support missions that led to 1,894 arrests." [18] Before the end of the 20th century, the Department of Defense's annual budget for the 'war on drugs' was approaching one billion dollars.
The National Guard's Counterdrug Program today describes its mission as reducing "the supply and demand for illegal drugs through partnerships with law enforcement, community organizations and school districts." In keeping with its interpretation of Posse Comitatus, it stresses that its involvement in Counterdrug operations is limited to a supportive role, and that it does not confiscate property, issue warrants, or make arrests. Its fixed-wing RC-26 B aircraft and Reconnaissance and Aerial Interdiction Detachment (RAID) helicopters appear to have spent considerable time searching for marijuana plantations.
After 9/11, it expanded its role "from counternarcotics to counternarcoterrorism,' with 2,500 full time soldiers and airmen involved in Counterdrug nationally in 2006. In FY2014, the Counterdrug Program fought proposed White House budget cuts that limited dollars for state plans "to only $104.5 million," and urged full funding for the participation of 4,000 National Guard members. It reminded Members of Congress that the National Guard Counterdrug Program "conducts a full spectrum campaign that bridges the gap between Department of Defense and Non-DoD institutions in the fight against illicit drugs and transnational threats to the United States," providing critical "military skill sets" not just to Federal, State and Local Law Enforcement Agencies and Community Based Organizations "but to Combatant Commanders including NORTHCOM and SOUTHCOM."
Documents obtained by the ACLU of Massachusetts from the Massachusetts National Guard relating to its Counterdrug services demonstrate the extent to which federal, state and local law enforcement agencies and community entities such as schools have become intertwined in the struggle for a drug-free Commonwealth.The Massachusetts Drug Interdiction and Counterdrug Activities Plans for Fiscal Years 2012, 2013 and 2014, as certified by Governor Deval Patrick and Attorney General Martha Coakley as well as the Counterdrug Coordinator and Adjutant General of the Massachusetts National Guard, have a decided military ring. They refer to "battle staff management" and "military unique tactics" in a "unique military environment" to facilitate rendering "efficient support" to federal, state and local agencies. However, despite state law that permits them to be armed when involved in counterdrug missions, the Adjutant General has not authorized Massachusetts National Guard members to carry weapons when on Counterdrug duty.
The Counterdrug plans use language that promotes racial profiling in their descriptions of drug activity in the state: "Powder cocaine is converted to crack by African American and Jamaican distributors that was purchased from Dominican traffickers. Marijuana is produced by Asian traffickers from cannabis cultivated in the New England region." Although Massachusetts voters have twice moved to decriminalize its use, marijuana appears as one of the "primary drug threats" in these plans since it is "the most widely abused drug" in the state. Among services rendered, the Massachusetts National Guard gives local law enforcement agencies "domestic cannabis suppression operations support" including eradication training, land navigation, reconnaissance on the land and in the air, "as well as command and control during operations."
In addition to marijuana detection and eradication, the Massachusetts National Guard and the 14 officers who do Counterdrug work full-time provide requesting law enforcement agencies with linguist support, transportation support, communications planning, imagery and map support, access to ion scanners to 'sniff' for drugs, the use of night vision devices, training in special skills such as rappelling and the use of camouflage techniques, and the equipment and personnel to conduct ground and aerial reconnaissance.
The Massachusetts Counterdrug Program shows its kinder, gentler face in its school-based "Stay on Track' curriculum and community education programs that attempt to stop drug use before it starts, although the funding for these programs has declined sharply from FY2011. One example of outreach to the community is the engagement of the Guard's Counterdrug program with the Youth Mentoring Program of Children's Friend and Family Services, which invited the public to Beverly Airport to take a close look at a OH58 reconnaissance helicopter and a military Humvee.
One the largest line items in the Counterdrug Program's yearly $1 million plus budget has been for Analyst Support. The Massachusetts National Guard supplies full-time intelligence analysts to the Commonwealth Fusion Center (with which it signed aMemorandum of Understanding in 2005) and to a host of federal agencies operating in Massachusetts: the New England High Intensity Drug Trafficking Area (HIDTA) Investigative Support Center and the HIDTA Financial Crimes Task Force in Boston, the Domestic Highway Enforcement program, the DEA Intelligence group in Boston, the US Coast Guard, the Homeland Security Investigations arm of ICE at the Field Intelligence Group–Boston which, according to the plan for FY 2014, collaborates closely with the Boston Organized Crime and Drug Enforcement Task Force.
So many agencies are involved, and yet the 'war on drugs' is far from won, judging from the description of drug activity contained in these Massachusetts Counterdrug Program plans. Prohibition remains a failed strategy.
The expanding military mindset
While the military was helping police the drug wars, some civilian police units were becoming more like the military. The Department of Defense's Joint Task Forces provided specialized military-style training for police, including training in helicopter attacks, sniping, intelligence and various paramilitary combat techniques. According to David Kopel, hundreds of soldiers from Fort Bragg conducted urban warfare exercises with Pittsburgh and Allegheny County SWAT teams in 1996, and in the closing years of the century, such warfare drills were becoming increasingly common. [19]
One trainer told Peter Kraska that SWAT team members "get a rush out of search-and-destroy missions instead of the bullshit they do normally." [20] The adrenalin rush produced by forced entries has been called "habit forming" and cited as one reason why police don't wait to arrest suspects when they leave buildings. [21] And as they behaved more like soldiers, the targets of their raids assumed the guise of a dehumanized 'enemy.'
The implications of the new military mindset were spelled out by Karen Franklin inPsychology Today:
'Why serve an arrest warrant to some crack dealer with a .38?' asked one U.S. military officer who trained police SWAT teams in the 1990s. 'With full armor, the right shit, and training, you can kick ass and have fun.'

As this quote implies, SWAT raids—conducted hundreds of times per year in cities large and small—foster a masculine culture of violence and a worship of a 'techno-warrior' image of policing. SWAT raids are the ultimate in power, an adrenalin rush that is quickly habit-forming. Recruitment videos that emphasize this culture may, in turn, be changing the type of individual who seeks to become a police officer.
The militarization process was further ramped up in 1989, when Congress amended the National Defense Authorization Act to permit the Secretary of Defense to transfer excess supplies and equipment to civilian police active in the 'war on drugs.' This1208 Program was replaced by the Pentagon's 1033 Program in 1996. Although most of the property dispersed under the program is designated as "non controlled" or lacking in military attributes (such as computers, cameras, radios and general office equipment), it also provides police departments with free military equipment, including assault rifles, armored vehicles and helicopters for their general use. In addition, states and local governments have since 1994 been able to purchase military equipment at discounted prices under the 1122 Program.
According to the Marshall Project, the Pentagon has supplied local law enforcement agencies with some $5 billion in equipment since 1990, with the amount rising year after year. A December 2014 White House report revealed that some 460,000 pieces of "controlled property" (or military-designed equipment) are now in the hands of local law enforcement agencies. [22]
Mass shootings like that which occurred on April 20, 1999 at Columbine High School convinced many police departments to obtain military weapons — despite the fact that the SWAT teams that were called to the high school did nothing to bring the killing spree to an end. In the words of former Los Angeles Police chief William Bratton who is now heading the New York Police Department, "I don't see us as militarizing police; I see us as keeping abreast with society. And we are a gun-crazy society."
Meanwhile, the flow of federal funds earmarked for the 'war on drugs,' and the civil asset forfeiture policies created by 1970 Comprehensive Drug Abuse Prevention and Control Act and broadened by the 1984 Omnibus Crime Act, made drug raids lucrative, and in many jurisdictions promoted "policing for profit."  Police departments that assisted with federal drug investigations now had financial incentives to maintain SWAT teams and send them into action as often as possible, with results that have often been corrupting and have diminished their accountability to elected officials and the public.
According to the December 2014 White House report, over 7,500 state and local law enforcement agencies have participated in the Department of Justice's 'Equitable Sharing Program' that has overseen the transfer of some $2.7 billion in asset forfeiture funds since 2009. "As law enforcement agencies have come to increasingly depend on forfeiture to finance their operations," wrote Brant Hadaway, "law enforcement priorities have been corrupted: interdiction efforts end up targeting money and property rather than black market drugs and drug sellers." [23]
A 1994 report [24] found that forfeiture programs led to "asset hunting operations… escalating both the image and reality of private soldier over public servant. The tactics required to generate seizures on a regular basis too often conflict with the ideals of protecting and serving the public." While "serving to generate income," they "serve functions that are inherently contradictory and often at odds with the demands of justice."
In addition to the federal civil asset forfeiture program, states have their own laws mandating asset forfeiture. The Massachusetts law (M.G.L 94 C, Section 47), although narrower in scope than the federal program, was described as "terrible" and given a 'D' grade by the Institute for Justice's Policing for Profit project in 2010. Under the state law, proceeds of seizures are shared among prosecutors, and the state and local police.
Asset forfeiture escalated after 9/11, when, in the words of an explosive Washington Post investigation, local police and state troopers were instructed by the government "to act more aggressively in searching for suspicious people, drugs and other contraband," leading to "the seizure of hundreds of millions of dollars in cash from motorists and others not charged with crimes." The merging of the 'war on drugs' and 'war on terror' led to the creation of "a private intelligence network known as Black Asphalt Electronic Networking and Notification System that enabled police nationwide to share detailed reports about American motorists – criminals and the innocent alike – including their Social Security numbers, addresses and identifying tattoos, as well as hunches about which drives to stop. Many of the reports have been funneled to federal agencies and fusion centers as part of the government's burgeoning law enforcement intelligence system," spurring police to make nearly 62,000 cash seizures totaling more than $2.5 billion. The funds were funneled through the Justice Department's Equitable Sharing Program, with more than half going to the LEAs and the rest to DOJ and DHS.
In a subsequent report, the Washington Post gave details about how some of the thousands of state and local law enforcement agencies that participated in the DOJ's Equitable Sharing Program used the billions handed out in forfeiture funds. Among the items purchased were helicopters, mobile command buses, high powered weapons and armored personnel carriers. More modestly, the New Bedford, MA police department spent $2,119 in shipping costs to receive M-16s free of charge from the military.
In mid January 2015, a few months after the Washington Post exposés, Attorney General Eric Holder announced that state and local police would no longer be able to make warrantless seizures of cash and other property under the DOJ's 'Equitable Sharing' program with certain public safety exceptions. State civil asset forfeiture laws are not affected by the ruling.
The constitutional implications
The limited form of government established by the Founders placed control of the military in civilian hands. The 1807 Insurrection Act provided that federal troops could only be used within US borders if local governments were unable to put down lawlessness or rebellion. That principle was affirmed after the Civil War by the Posse Comitatus Act. Its importance was expressed in this passage from the Eighth Circuit Court of Appeals ruling in the 1985 case of Bissonette v. Haig:
Civilian rule is basic to our system of government. The use of military forces to seize civilians can expose civilian government to the threat of military rule and the suspension of constitutional liberties. On a lesser scale, military enforcement of the civil law leaves the protection of vital Fourth and Fifth Amendment rights in the hands of persons who are not trained to uphold these rights. It may also chill the exercise of fundamental rights, such as the rights to speak freely and to vote,and create the atmosphere of fear and hostility which exists in territories occupied by enemy forces.
Paramilitary police forces are police – not soldiers – who have, supposedly, been trained to uphold these rights. But they have also been trained in military methods designed to shock and intimidate, and they deploy the kind of equipment which can not only inhibit the right to speak freely, but can – and has – created fear and hostility, especially in African American and Latino neighborhoods. The data gathered for the report Operation Ghetto Storm detailing the "extrajudicial killings" of 313 Black people in 2012 "by police, security guards and vigilantes" is in part an indictment of militarized police forces that, in the words of the report's authors, "do not view themselves as protectors of the community or even law enforcers. Rather their recruitment, training, programming, policies for promotion – their culture – has transformed local police forces into occupying armies, where they view community members as the enemy."[25]
In the wake of country-wide protests against the failure of police officers to be indicted for the killing of Michael Brown in Ferguson and Eric Garner in Staten Island, ProPublica – while acknowledging the problem posed by incomplete data – estimatedthat young Black males were 21 times more likely to be shot dead by police than their white counterparts.
What the ACLU calls a "staggering racial bias" is evident in statistics gathered for its June 2013 report, The War on Marijuana in Black in White. Nearly half (eight million) of all drug arrests between 2001 and 2010 were for marijuana possession. Of the more than eight million marijuana drug arrests during that period, Blacks were four times more likely to be arrested for marijuana possession than whites, although the usage rate for both groups is comparable. In some localities, they were eight times more likely to be arrested, often as a result of suspicionless 'stop and frisk' searches on the streets.
Through these routine 'stop and search' practices in communities of color, as well as the actions of paramilitary forces, community trust has been corroded and constitutional protections – most notably the Fourth Amendment's ban on unreasonable searches and seizures – have been significantly eroded.
Take the 'knock and announce' rule under which police were expected to announce their presence before making even a forcible entry to execute a search. It was upheld by the Supreme Judicial Court (SJC) of Massachusetts in 1852 in these terms: "The maxim of law that every man's house is his castle . . . has not the effect to restrain an officer of the law from breaking and entering a dwelling-house for the purpose of serving a criminal process upon the occupant. In such case the house of the party is no sanctuary for him, and the same may be forcibly entered by such officer after a proper notification of the purpose of the entry, and a demand upon the inmates to open the house, and a refusal by them to do so."
More than a century later, Justice William Brennan quoted the SJC's words in his dissent in the 1963 case Ker v. California.  After stating that "it was firmly established long before the adoption of the Bill of Rights that the fundamental liberty of the individual includes protection against unannounced police entries," he warned against the risks of weakening the 'knock and announce' rule since police make mistakes or could be misinformed. "Innocent citizens should not suffer the shock, fright or embarrassment attendant upon an unannounced police intrusion," Brennan wrote.
In 1995, the Supreme Court ruled in Wilson v. Arkansas that how a home was entered was a factor in considering whether a search was 'reasonable' under the Fourth Amendment. But unannounced 'no knock' forcible entries were not ruled unconstitutional. Subsequent High Court opinions have chiseled away still further at Fourth Amendment protections. [26]
In 2006, in Hudson v. Michigan, the Supreme Court ruled by 5-4 that evidence obtained through a 'no knock' search was not barred by the exclusionary rule, which had once been considered a bulwark of an individual's constitutional right to be free from unreasonable searches and seizures. [27] Why would police bother to 'knock and announce' their presence if the evidence they seized was legally admissible in court after a 'no knock' search?
If the Common Law precept that 'a man's house is his castle' and Fourth Amendment protections have been extensively undermined by the paramilitary policing that evolved to fight the 'war on drugs,' another tenet of Common Law – 'the presumption of innocence' – has been gravely compromised when property is seized as part of civil asset forfeiture, often without charges ever being brought. And as the 'war on drugs' merged with the 'war on terror' in the 21st century, constitutional rights have been further jeopardized by the growing federalization of policing that followed in the wake of the attacks of 9/11.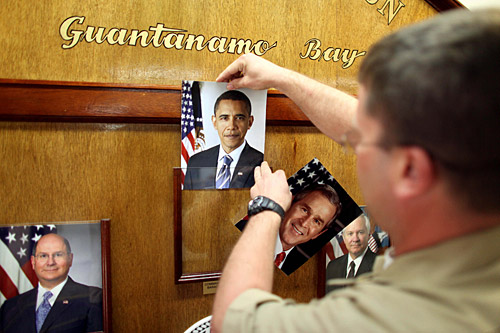 III. Fighting the "war on terror"
To an intelligence agent, informant, or law enforcement officer, everything unconventional or unorthodox looks like at least a pre-embryonic terrorist danger. 28]
Boston police spy on First Amendment activity
In 2012, well-known Boston-area peace and justice groups learned that their meetings and demonstrations had long been monitored by the Boston Police Department (BPD) and the secretive Boston Regional Intelligence Center (BRIC), one of two 'fusion centers' established in the Commonwealth in the aftermath of the 9/11 attacks. [29]
Not only was their constitutionally-protected speech being spied on, but police were creating electronic 'intelligence reports' about their lawful political activity and storing them for years under the heading 'Criminal Act,' using such labels as 'Extremists,' 'Civil Disobedience' and 'HomeSec-Domestic.' These 'intelligence reports' were retained – and possibly shared — despite having no connection to criminal activity, in violation of the BRIC's own privacy policy which stipulated that such 'interim reports' must be destroyed within 90 days.
The political surveillance on Veterans for Peace, CodePink and United for Justice with Peace among other groups came to light after the ACLU of Massachusetts and the Massachusetts Chapter of the National Lawyers Guild went to court challenging the refusal of the BPD and BRIC to respond to a public records request.
A further release of BRIC documents in 2014 showed the extent to which officialsmonitored the political speech of Occupy Boston and kept tabs on speakers who addressed Occupy events – among them labor union leaders and then State Representative Marty Walsh, now mayor of Boston
The documents obtained through the lawsuit gave a glimpse into the workings of a post 9/11 policing paradigm that is no longer primarily reactive and focused on solving crimes or uncovering concrete evidence that a crime might be about to be committed. Instead, local police officers monitor broad sections of the population, looking for indicators of future crimes before they are committed ('pre-crime') and feed the giant databases of federal partner agencies with reports of 'suspicious activity' that could – or could not – be a harbinger of terrorism.
So broad are the changes ushered in by 9/11 that purely 'local law enforcement' is in many respects a thing of the past, with serious implications for what William Stuntz called "the kind of local democracy that once ruled American criminal justice." [30]
The 'federalization' of the police
Following the establishment in 1982 of the Department of Justice's Organized Crime Drug Enforcement Task Forces, multijurisdictional collaboration among federal, state and local law enforcement agencies played an increasingly prominent role in the 'war on drugs.' The passage of the Anti-Drug Abuse Act of 1988 led to the formation of theHigh Intensity Drug Trafficking Areas (HIDTA) program that accelerated the collaboration and intelligence-sharing among agencies. The 28 regional HIDTAs that were established included 60 percent of the country's population.
According to a 2011 Office of National Drug Control Policy report to Congress on the HIDTA program, by 2010 it had a $239 million budget and access to a range of information-sharing systems, including the Regional Information Sharing Systems (RISS.net), HIDTA.net, the Secret Internet Protocol Router Network, ADNET-U, DEA-MERLIN, the Narcotics and Dangerous Drug Indexing System, Central Index System, Homeland Security Information Network, National Drug Pointer Index, National Seizure System…the list goes on. More and more information was being deposited into a rapidly-expanding number of databases, with less and less attention to accuracy and quality-control.
Before the close of the 20th century, the ATF, DEA, FBI, Housing and Urban Development (HUD), INS (which later became ICE), Department of Defense's Joint Task Force, US Marshals and the Massachusetts National Guard participated with various Massachusetts police departments in the New England High-Intensity Drug Trafficking Areas Task Force. Today, this multiagency organization operates out of Methuen and encompasses Essex, Hampden, Middlesex, Plymouth, Suffolk and Worcester Counties in Massachusetts. Its 'Intelligence and Investigative Support Center' (IISC) is a joint venture of the New England HIDTA and the Commonwealth Fusion Center (CFC) that had been established under the supervision of the Massachusetts State Police in 2004. The IISC, which is co-managed by an FBI Special Agent and a Sergeant with the Massachusetts State police, assembles 'threat assessments' that provide ample evidence that the 'war on drugs' is not being won. Its other vital service is to provide "deconfliction services to minimize investigative conflicts between agencies."
As explained in the 2011 Office of National Drug Control Policy report, "Deconfliction is a guiding principle of the HIDTA program. This ensures investigations do not overlap. Further, by informing agencies when critical activities associated with fluid enforcement operations occur in close proximity that could result in conflict, they protect law enforcement officers in the field. Investigators and their managers can then determine the most prudent course of action for the investigation."
In Massachusetts, there are more than 20 multiagency drug task forces – not all of them part of the HIDTA program.[31] In 2005, the Multijurisdictional Drug Task Force (MJTF) program had 25 drug task forces, thanks to funds provided to the Massachusetts Executive Office of Public Safety by the Edward Byrne Memorial Justice Assistance Grant (JAG) program. The Massachusetts Office of Public Safetyreported that representatives from 181 Massachusetts cities and towns were working along side the FBI, DEA, ICE, Massachusetts State Police, sheriff's departments and the district attorneys offices. With the assistance of a thousand confidential informants, they conducted 131 drug investigations, and seized well over $2 million through asset forfeiture in 2005.
By this time, fighting 'terrorism' had also become the business of police departments across the country, further blurring the lines and functions that had once defined federal, state and local agencies.
Joint Terrorism Task Forces (JTTFs) led by the FBI date back to an informal agreement between the FBI and the New York Police Department in 1980, with a few dozen more set up in the 1990s. In 2002, the FBI established a National Joint Terrorism Task Force and an additional 71 regional JTTFs to provide "one-stop shopping for information regarding terrorist activities." More than 4,200 federal, state and local law enforcement agents now participate in them, representing 600 state and local agencies and 50 federal agencies.
In Massachusetts, a 2003 Memorandum of Understanding between the FBI and State Police established the Boston Joint Terrorism Task Force as a "cooperative effort to fight terrorism." But its members were not generally informed about the intelligence the FBI received concerning Tamerlan Tsarnaev. In addition to the FBI and State Police, agencies that agreed to be part of the JTTF in 2003 were the Boston Police Department, Lowell Police Department, MBTA police, Immigration and Customs Enforcement, Customs and Border Protection, Bureau of Alcohol, Tobacco and Firearms, Defense Criminal Investigative Service, US Marshals Service, Naval Criminal Investigative Service, the US Postal Inspection Service, the Internal Revenue Service and the US Secret Service.
Local law enforcement officers who join the JTTFs generally do so on a full time basis, while remaining on the local payroll except for overtime, which is paid by the FBI. After background checks that could take six months to process, they are given various grades of security clearance and deputized as Special Deputy US Marshals to work under the direction of the FBI. Their new status enables them to act as undercover operatives and participate in the monitoring of lawful religious as well as civic and political activity permitted by post 9/11 revisions to the FBI guidelines.
Such cross-jurisdictional cooperation is a feature of other components of the national security surveillance complex underwritten by the Department of Homeland Security. The DHS gave states the funding to set up 78 fusion centers that represent a significant departure from traditional law enforcement objectives and methods, with few legal limits on what they can and cannot do. With tangled lines of authority and virtually no accountability, state-run fusion centers such as Massachusetts' BRIC and the Commonwealth Fusion Center [32] operate in secret to 'fuse' and analyze information from a wide variety of sources (police, feds, the military, private entities, the public) and databases, and facilitate terrorism-related (soon expanded to crime-related) information sharing between local and state agencies and the federal government.
To feed fusion center databases, 800,000 local and state operatives are encouraged to participate in the Nationwide SAR Initiative (NSI) – SAR stands for Suspicious Activity Reporting – and monitor everyday behavior that has nothing to do with criminal investigations such as taking photographs, writing notes, and espousing 'radical beliefs.' The FBI and many police departments have their own SAR collections.
The Los Angeles Police Department, for instance, ordered its police in 2008 to "gather, record and analyze information of a criminal or non-criminal nature, that could indicate activity or intentions related to either foreign or domestic terrorism." On its list of 65 'suspicious' behaviors are using binoculars, taking measurements, drawing diagrams, evasive driving, espousing 'extremist' views. Like the LAPD, the Boston Regional Intelligence Center has adopted the iWATCH program that asks the public to phone in 'suspicious' activity, with examples given here.  Once tips are checked and SARs are vetted by fusion centers, threat information is supposed to be entered into the 'Information Sharing Environment' (ISE) and sent to the FBI's eGuardian database in an effort to prevent the next terrorist attack.
Because there was simply not enough terrorism-related information to go around – a Senate subcommittee report found that not a single terrorist threat was uncovered through their work — fusion centers have been collecting information about protected First Amendment activity, as we saw in Boston and in many other parts of the country. The Commonwealth Fusion Center (CFC), like other fusion centers, has changed the focus of its data collection from fighting terrorism to a broad "all crimes, all hazards"mission. Now the CFC uses federal counter-terrorism funds to collect, store and share data that has little or no relation to terrorism and sometimes, no relation to actual crimes. But through its SARs collection and participation in 'war on drugs' initiatives such as the MassGangs project, which "promotes the real-time sharing of gang and gang member information across various local, regional, and state public safety partners," the CFC continues to attract federal funds and remains a ready source of data on people who for a variety of often dubious reasons get classified as 'suspects' in our domestic wars.
Policing for 'homeland security'
What impact has this focus on national security, the emphasis on data collection and the merging of jurisdictional functions had on local policing?
Jose Docobo, a Florida deputy sheriff and graduate of the FBI National Academy, sees little distinction between the old "community-oriented policing" and the new "policing model for terrorism and homeland security" which "must address the areas of crime prevention, intelligence gathering, and information sharing." Both depend on the creation of partnerships, citizen involvement, and problem-solving to prevent crime/terrorism. "The lesson learned from fighting traditional crime is that prevention is the most effective approach in dealing with crime, fear, and social disorder. Fighting terrorism is no different," he writes. [33]
A similar stress on the continuum between what is an increasingly paramilitarized version of "community policing" and policing to combat terror appeared in post 9/11 publications produced by the Department of Justice's Community Oriented Policing Services (COPS) program. COPS was created by President Clinton in 1994 to add police officers to the streets, to provide local law enforcement agencies with training and technology and to put police in schools. By the 21st century, COPS grants – which totaled $14 billion over 20 years – were being used to beef up SWAT teams and expand surveillance, and soon, the drug war and war on terror became increasingly intertwined.[34]
"This is how the game is played," Radley Balko explained. "Drug arrests brought in federal money. Federal money and 1033 let police departments buy cool battle garb to start a SWAT team, which they justify to local residents by playing to fears of terrorism, school shootings, and hostage taking. But those sorts of events are not only rare, they don't bring in any additional money. Drug raids bring in more federal funding, plus the possibility of asset forfeiture. All in the name of community policing."[35]
The economic downturn beginning in 2008 forced police departments to lay off 'beat' officers essential to old-style community policing since most federal funding was for equipment, not salaries. According to a 2010 survey, police departments overwhelmingly preferred to forego equipment and technology if they could keep their staffs intact, [36] but they did not have that choice. Federal funds fed a burgeoning homeland security complex that supplied local law enforcement not just with military gear, but spy tools and software, and training in computer-driven methods that could, in theory, enable police to do more with less.
Zach Friend, a Santa Cruz police officer writing in the FBI Law Enforcement Bulletin, extolled 'predictive policing' first developed by the LAPD for using information-gathering technologies to reduce crime, citing the way the collection of data and algorithms can predict future crime hotspots where officers can be concentrated.
Predictive policing – "stopping crime before it starts" – has its critics, who point out that it depends on the accuracy of the information that goes into the databases and does not factor in the crimes that are not reported. Professor Andrew Guthrie Fergusonworried about the validity of the 'crime mapping' process and feared that "predictive policing will create an implicit high-crime area exception to the Fourth Amendment in those targeted areas."
Indeed, a 'feedback loop' of injustice is created when decades of crime statistics that reflect the disproportionate 'war on drugs' targeting of poor people and communities of color swell law enforcement databases and become the basis of 'predictive policing' algorithms.
A variant of 'predictive policing' is 'intelligence-led policing' (ILP), defined in the National Strategy for Homeland Security as a "management and resource allocation approach to law enforcement using data collection and intelligence analysis to set specific priorities for all manner of crimes, including those associated with terrorism." In an article in the FBI Law Enforcement Bulletin, Massachusetts State Police Sergeant David Lambert praised the ILP practiced by the Commonwealth Fusion Center where he was based.
"Fusion centers have access to a wide variety of databases, many of which previously were accessible only by individual federal, state, or local law enforcement organizations," he wrote. "Pooling resources, such as analysts and information systems, can maximize limited assets at a time when all agencies face budget cutbacks. Collaboration across organizations blends subject-matter expertise in areas, such as homeland security, violent crime, and drug control. It builds trusted relationships across participating agencies, which encourages additional collaboration."
Such collaboration, conducted in conditions of secrecy, may theoretically build 'trust' across agencies, but it does not build trust within communities. The relationships of trust that traditionally defined effective 'community policing' cannot thrive if local police have a separate federal agenda with no accountability to or oversight from the community, such as when they participate in JTTFs. Then they become federal officials and are no longer under the supervision of their local departments that continue to pay their salary. The FBI controls their reports and the information they collect. In short, they are no longer truly 'local.'
In Massachusetts and elsewhere, many communities lack trust in law enforcement because of a history of misconduct, and the failure of police to respond in a timely manner when they are most needed. In Boston, the dragnet 'stop and frisk' searches of the 1980s and the mass targeting of African Americans by police after Charles Stuart murdered his pregnant wife in 1989 and claimed a Black man did it made the police appear an occupying force, a legacy that has been difficult to overcome. A 2014 ACLU of Massachusetts report indicates that racially-biased policing in Boston is ongoing in the 21st century, with Black residents subjected to nearly two-thirds of the 'stop-and-frisk' encounters with police, despite the fact that they make up less than a quarter of Boston's population. Trust has been further eroded because police officers are now seen to be working hand in hand with federal agencies, including ICE and the FBI, whose revised 2008 guidelines permit it to use religion or ethnicity as a factor in deciding what people to interview and what groups to infiltrate.
Around the country, Muslims have borne the burnt of what has been seen as a JTTF (and rival NYPD) hunt for the 'enemy within,' with FBI informants often inventing plots – and terrorists – and supplying fake bombs and other weapons in sting operations. Meanwhile, a record number of non citizens have been deported as local police collaborate with ICE agents and implement database surveillance programs like the misleadingly named 'Secure Communities' which was pioneered in Boston. The result has been a strained social fabric, and a growing climate of fear and polarization. The vigorous push back against 'Secure Communities' led President Obama to announcein November 2014 that it was being ended.
As well as monitoring people and groups who are often seen as 'suspicious' because of who they are, not what they have done, 'homeland security' policing requires officers to waste time chasing down 'tips' of suspicious activity phoned in by the public instead of spending it investigating leads in actual crimes. And when police officers file SARs reports on behaviors that are not illegal but seem somehow 'suspicious,' they are feeding a national information sharing network where ambiguous lines of authority among local, state and federal agencies make it all but impossible to hold anyone accountable, or even know what is going on, further reducing meaningful local control and transparency.
Local democratic control is further reduced by federal funding that equips police departments with cutting-edge surveillance technology they can secretly direct against the local population, while leaving the public in the dark about the powers of the police and the evolving surveillance state.
But hasn't data-driven intelligence and technology enhanced public safety as well as national security?
Evidence suggests the answer is no. The Washington Post's far-ranging Top Secret America series revealed what Bruce Hoffman referred to as "America's profitable and profligate intelligence and homeland security empire" that provided a feast for contractors. The 2012 Senate subcommittee report on fusion centers found that they "produced irrelevant, useless or inappropriate intelligence reporting." Sen. Tom Coburn's 2012 report on the use of DHS funding in cities through the Urban Area Security Initiative (UASI) detailed the waste of taxpayers' money on surveillance gadgets and armored paramilitary vehicles with no indication that "UASI and other DHS grant program have made our nation's cities safer and more prepared."
And despite initial NSA claims to the contrary, there is no solid evidence that the dragnet National Security Agency surveillance revealed by Edward Snowden has disrupted a single terrorist plot. The primary example intelligence officials have cited to demonstrate the value of the NSA program has been its role in linking Basaaly Moalin, a San Diego taxi driver, to the Somali group al-Shabab, to which he sent $8,500. Critics say that Moalin's support of al-Shabab could have been detected using traditional law enforcement methods.
Instead of focusing law enforcement resources and attention on identifying and investigating actual threats and solving actual crimes, billions of dollars have been spent on secretive suspicionless surveillance. Information gathered from monitoring targeted communities and constitutionally-protected First Amendment activity has swelled databases in hopes that algorithms and automated systems can create links that will prevent terrorist attacks and catch criminals. Valuable time is wasted in the attempt to broaden access to secure computer systems that may not be compatible, to make sure that those who have access have proper clearances and background checks, to figure out ways to restrict unauthorized access without impeding the flow of data and to store data securely.
Such a vast amount and type of intelligence data make it all but impossible to validate or give appropriate weight to different pieces of information that are being fed into the system. As data flows in from local police officers, surveillance cameras, banks, public transportation systems, health systems and many more sources, data sifting replaces traditional sleuthing and it becomes difficult to separate wheat of useful information from the chaff of endless data. A focus on data mining and gathering an ever-increasing quantity of information in the hopes of detecting 'pre-crime' runs the risk of distracting law enforcement from traditional investigative techniques that focus on the indication of specific criminal wrongdoing. In the words of former FBI agent Mike German, "Traditional standards of reasonable suspicion and probable cause don't impair effective investigations – they ensure that law enforcement and intelligence resources are directed where they are most warranted."
The pitfalls of data-driven surveillance entered public consciousness when the 2009 Christmas Day plotter was able to board an airplane bound for Detroit. Despite specific warnings, Umar Farouk Abdulmutallab's name was never moved from the vast Terrorist Identities Datamart Environment (TIDE) system, which today contains an estimated 875,000 names, to the master watch list maintained by the FBI. What saved the passengers on the plane was not intelligence-led policing, but the failure of Abdulmutallab to set off the bomb he carried in his underwear.
The bombs that went off at the 2013 Boston Marathon have made those pitfalls blindingly clear. According to the unclassified and redacted version of the Intelligence Community Inspectors General report on the Marathon bombing, Tamerlan Tsarnaev was watch-listed in four separate records, with two different dates of birth and a variation in the spelling of his name. When he traveled back from Russia, he was not identified as a 'subject of interest' by the FBI agent who had carried out a superficial investigation of him and preferred communicating with Customs and Border Protection either orally or through sticky notes.
The FBI's JTTF partners and the local domestic surveillance hubs – Massachusetts' two fusion centers – were not alerted to the Russian warning about Tsarnaev and the superficial investigation of him carried out by the FBI. The reluctance of the FBI to share information with local law enforcement agencies has led to friction with some police departments and an admission to Congress from then-FBI Director Robert Mueller that the Tsarnaev investigation before the bombing had been marred by poor communication and procedural flaws. This was later confirmed in the report from the Intelligence Community Inspectors General.
For Mike German, the former FBI agent who once infiltrated white supremacy groups and is now a fellow at the Brennan Center, the Marathon attack exemplifies the ineffective and counterproductive approach to fighting terrorism that emphasizes intelligence gathering at the expense of thoroughly investigating criminal leads, conducts broad surveillance of American Muslim communities and places 'suspects' in an "overburdened watch listing system that pings so often agents don't even respond."
In German's view, the Russian warning about Tsarnaev was sufficiently detailed to amount to "actionable intelligence because it alleged a possible criminal violation of US material support for terrorism laws that could be verified or disproven through investigation." But rather than investigating whether Tsarnaev really intended to travel to Russia to join a terrorist group as the Russian warning indicated and which US law prohibits, the FBI agent who conducted an assessment of Tsarnaev in 2011 did not even ask him about his travel plans. Rather than following a lead that a crime may be about to be committed, the FBI agent searched databases to see if Tsarnaev posed a 'threat to national security' – and decided he did not.
"The Boston Joint Terrorism Task Force churned through 1,000 assessments in 2011 alone," German wrote, "which goes a long way toward explaining why the Tsarnaev assessment was so cursory….These numbers are driven by 'see something, say something' campaigns and a 'no lead goes uncovered' policy that drains resources from more deserving investigations….This workload puts lots of banal information into FBI files, but it hasn't proved an effective method for identifying or interdicting threats."
Edward Snowden put it this way:
Despite the Russians specifically warning us about Tamerlan Tsarnaev, the FBI couldn't do more than a cursory investigation—although they did plenty of worthless computer-based searching—and failed to discover the plot. 264 people were injured, and 3 died. The resources that could have paid for a real investigation had been spent on monitoring the call records of everyone in America.
So it appears that the secretive surveillance state that has emerged since 9/11 has led to the dots being wrongly connected, or not connected at all. Seeking 'national security,' we have moved into the age of Total Information Awareness without being aware of its costs to our lives and society. What kind of democracy do we live in when the military's National Security Agency (NSA) has access to every corner of our digital lives – our telephone records, emails, videos, text messages, web searches and activities on social media?
When algorithms detect 'pre-crime' in a world in which all our data is collected and stored, we all become potential suspects, and have put at risk such core values as the presumption of innocence, the right to privacy, freedom of expression, assembly and religion. In the process, countless law-abiding people can be harmed, as the National Research Council warned when it found that locating terrorists through data mining "is neither feasible as an objective or desirable."
Further militarizing the home front
Along with the increasing federalization of policing in the post 9/11 period, we have also seen what Peter Kraska termed "a rapid acceleration of the military-police blur."[37] It was encouraged by then-Secretary of Defense Donald Rumsfeld, who wanted the Department of Defense to "take the lead in defending people and the territory of our country, supported by other agencies. Plans for such contingencies would be coordinated as appropriate with the National Security Council and the Department of Homeland Security."
The formation in October 2002 of the US Northern Command (NorthCom) to coordinate "defense support of civil authorities" has taken the activities of the late 20thcentury Department of Defense Joint Task Forces to a new level. NorthCom meets regularly with the FBI, CIA, NSA and other US intelligence agencies, as the DOD plays an active role in domestic intelligence gathering, with information on peace groups and counter-recruitment protests at one point ending up in the Pentagon'sTalon database.
In addition, NorthCom participates in the FBI's JTTFs and state-controlled fusion centers and has access to the FBI's eGuardian system, while local, state and federal agencies collaborate with what are now NorthCom's Joint Task Forces. It has also helped police the political conventions and trains the civilian police. The 2004 National Defense Authorization Act mandated Department of Defense Task Forces involved in anti-drug operations to also provide support for counter-terrorism activity. In 2009, after serving in Iraq, the Army's Third Infantry Division's First Brigade Combat Team was assigned to NorthCom for operations within the 'homeland.'
After a dozen years of wars abroad, it is not surprising that both the ideology of militarism and military equipment are increasingly infiltrating domestic law enforcement. The 'troops to cops' program of the Clinton era was continued by the DOJ's COPS. In 2012 the COPS Hiring Program made $111 million directly available to law enforcement agencies that would hire and retain military veterans.
Police departments struggling with budget cuts could still stock up on the latest in surveillance technology, less lethal weapons, and military equipment thanks to federal funds from the DHS' Homeland Security Program and Urban Area Security Initiative, and from the Department of Justice's Byrne JAG Program. The DHS has equipped them with cutting-edge technologies of control, many originally developed for the military. They include powerful pan-tilt-zoom surveillance cameras, which could be outfitted with facial recognition software and automated tracking devices (Boston got an automated tracking system for its surveillance camera network just in time for the 2014 Boston Marathon), long-range acoustic devices for crowd control, ISMI catchers ('Stingrays') that can capture the identities, metadata and even the content from cellphones, listening devices that can enable a user to hear the whisper of players in a crowded stadium, and 16,000 pound armored vehicles called BearCats, at $250,000 – $300,000 a pop. The FBI and some police departments have also acquired spy drones, and more than 80 other police departments, federal agencies and universities have applied to get drone licenses from the Federal Aviation Administration. The DHS could not have been pleased when, in March 2012, the $300,000 surveillance drone it provided to the Sheriff's Office in Montgomery County, Texas crashed into its DHS-supplied $300,000 BearCat.
Law enforcement agencies could also sign up for the bounty which continued to be offered free of charge through the Pentagon's 1033 Program. All they had to do was pick it up and pay to maintain it.
According to Radley Balko, between 1997 and 1999, 11,000 police forces had ordered Defense Department equipment under the 1033 Program. By December 2005, that number had increased to 17,000 (out of the nation's nearly 18,000 state and local law enforcement agencies), with equipment valued at more than $727 million passing from military to civilian police hands – including aircraft, Blackhawk and Huey helicopters, M16 rifles, grenade launchers, armored personnel carriers, and night vision goggles, tanks with rotating gun turrets that shoot .50-caliber ammunition capable of cutting through several city blocks, bazookas and bomb detection robots. The value of equipment donated in FY 2011 topped $500 million, double that of FY2010, and was on an upward trajectory, with a steep rise expected as supplies are shipped home from Afghanistan. Many local police now patrol with body armor and military-style uniforms, and all 1,500 beat cops in Philadelphia have reportedly been trained in the use of AR-15 military assault weapons.
A July 31, 2013 Associated Press report reveals that the Defense Department has distributed $4.2 billion of equipment to 13,000 law enforcement agencies since 1990, with the program growing "drastically in recent years" thanks to the "scaling down of the military from two wars, tight local-government operating budgets and eligibility expansion in 1996 to include all state and local law enforcement work."
After years of stalling on Freedom of Information Act requests, the Pentagon's Defense Logistics Agency on November 21, 2014 posted online data relating to transfers of tactical equipment currently tracked by the Pentagon under the 1033 program. This data has been presented in an accessible form by the Marshall Project. It points out that while most of the items transferred to police departments are more suitable for offices, than battlegrounds, "the Pentagon largesse included tactical military equipment worth more than $1.4 billion, disseminated in 203,000 transfers to about 7,500 agencies." Military equipment that can be obtained under the program free of charge now includes a range of battletested products, from 'combat coveralls' and night vision goggles to military assault rifles and $650,000-plus Mine-Resistant Ambush Protected vehicles (MRAPs), which have an unfortunate tendency to tip over.
That did not prevent the Massachusetts police departments of Rehoboth (population 12,000), Haverhill (pop. 62,000) and New Bedford (pop. 95,000) from obtaining these behemoths, along with hundreds of other LEAs across the country. The police chief of Washington, Iowa (population 7,000) called his agency's MRAP "a big win for his officers' safety," while critics fear it "will turn every banal warrant service into a quasi-military operation."
With the size of some federal grants tied to the number of drug arrests and police departments relying on the funds brought in by asset forfeiture, the 'war on drugs' goes inexorably on, despite its spectacular lack of success. But after 9/11, local police departments had a new pitch about why they needed heavily militarized SWAT teams.
As Balko writes: "It is commonplace for police officials who want a SWAT team to attempt to assuage community concerns by arguing the units are necessary to thwart the possibility of terrorism, school shootings, or violent crime. Once in place, however, SWAT teams are inevitably used in the service of drug warrants."[38]
They also menaced the Occupy Movement in Oakland,  Seattle, Denver, Miami,Tampa, Chapel Hill and elsewhere, and facilitated foreclosures. Then came the Boston Marathon bombing, which finally gave paramilitarized police units the opportunity to be in the frontlines of the 'war on terror' and to demonstrate that taxpayers' dollars and military equipment were being put to good use, as evidenced by the mass convergence of SWAT teams on Watertown.
Such visibility can be valuable in public relations and future grant applications, and appears to be a source of satisfaction to law enforcement, judging from the letter a retired police chief wrote to The New Bedford Standard-Times soon after the Marathon bombing.In it heexpressed his disappointment that the paper "failed to note that officers from the New Bedford Police Department Special Reaction Team and Greater New Bedford officers from Southeastern Massachusetts Law Enforcement Council's SRT team also responded to Boston and Watertown during the recent crisis."
IV. SWAT teams across the Commonwealth
The North Eastern Massachusetts Law Enforcement Council (NEMLEC) began in 1963, during the turbulent social and political struggles in the 1960s, when police departments were experiencing an increase in crime….The disorder associated with suburban sprawl as people migrated from larger cities, the development of the interstate highway system, the Civil Rights Movement and the growing resistance to the Vietnam War threatened to overwhelm the serenity of the quaint, idyllic New England towns North and West of Boston. Police chiefs gathered to share intelligence about crime patterns and trends, to discuss social policies and develop effective prevention and response programs. [39]
Reacting to the "turbulent social and political struggles of the 1960s," eight police chiefs in Middlesex County, formed what became Massachusetts' first 'Law Enforcement Council.' NEMLEC, incorporated as a private, non profit organization in 1969 and registered as such with the Commonwealth of Massachusetts in 1974,claims to be exempt from public records requests – despite the fact that it provides (among other things) SWAT services utilizing local police to its 58 participating law enforcement agencies, is staffed by police officers, and receives membership fees amounting to several thousand dollars annually from police departments and grants from government agencies.
Today, Massachusetts is largely covered by a net of eight Law Enforcement Councils (LECs),[40] several of which claim a public records exemption because of their private, non profit status. The ACLU of Massachusetts is challenging that status in court.  To date, in response to public record requests seeking information about their SWAT deployments, the ACLU has only received the Articles of Organization and Mutual Aid Agreements from some of the LECs.
The lawsuit has reportedly spurred NEMLEC to take down its website after a reporter publicized the description of its founding (quoted above) in an article about the ACLU of Massachusetts' litigation.
The 'regionalization' concept pioneered by NEMLEC has given approximately 240 of Massachusetts' 351 cities and towns access to SWAT teams through these LECs. More than 25 cities and towns and some sheriff's departments maintain their own paramilitary policing units (PPUs)[41] and may additionally participate in LECs. Further PPU participation is provided through the more than 20 regional Drug Task Forces that work with a variety of federal agencies. The Massachusetts State Police has its own Special Tactical Operations (STOP) team as does the Massachusetts Bay Transportation Authority.
Law Enforcement Councils enable local LEAs to share resources across regions. Member agencies sign Mutual Aid agreements stating they will donate personnel and funds to specialized units that can be called on when necessary. By combining forces regionally, local police can – in theory at least – sidestep the turf issues that often intrude when they are forced to turn for help from state and federal agencies. In addition to dues (generally about $1,000 annually, but over $4,000 annually in the case of NEMLEC) paid by participating law enforcement agencies, the LECS get federal dollars.
The 'Interagency Mutual Aid/Assistance Agreement' for the 17-agency Cape Cod Regional Law Enforcement Council, incorporated in November 2002, defines its purpose in the following broad terms:
To provide mutual aid programs for the member police departments because of terrorist or enemy action, natural disaster, unusual occurrence including but not limited to fire, flood, storm, earthquake, landslide, aircraft accident, search or rescue operations, other natural or man-caused incidents requiring exceptional police action, school or workplace violence, riot, mob action, civil disturbance, demonstration, private police details, urban insurgency or any situation threatening the peace and tranquility of requesting party's justification.
The Agreement grants officers from member jurisdictions who respond to a call for assistance from another LEC member agency "the same immunities and privileges as when acting within their respective cities and towns," while their "salary and overtime expenses" are to be covered by their home departments. It states that "a complete written report" of each request for LEC activity be made within 72 hours of the request, "indicating the time and nature of the request and giving complete details as to the response made." In March 2014, the press reported that Cape Cod Regional LEC was re-drawing its Mutual Aid agreement to clarify when police from one town can cross into another jurisdiction in response to a crime.
The larger LECS, like MetroLEC, provide a range of specialized resources to participants, including a Canine Unit, Computer Crime Unit, Crisis Negotiation Team, Mobile Operations Motorcycle Unit, and Regional Response Team as well as a Special Weapons and Tactics (SWAT) team. MetroLec, which filed to incorporate as a private non-profit organization in December 2011, is a consortium of 43 police and sheriffs' departments west and southwest of Boston. Many of its specialized units participated in the hunt for the Marathon bombers, with its SWAT team arriving in a BearCat armored personnel carrier, complete with a rotating gun turret. BearCats prowling the streets of Watertown are now featured in a video on the website of their manufacturer, Pittsfield-based Lenco Industries.
MetroLEC also possesses a $700,000 state-of-the-art mobile command post, and late in 2012, its SWAT chief applied to the Federal Aviation Administration for a drone permit to evaluate how an Unmanned Aerial System (UAS) can help SWAT operations. "MetroLec SWAT is an extremely forward thinking and innovative agency that has great ideas on UAS applications in law enforcement. We are excited for this opportunity to work with them," the director of Aurora Flight Sciences declared in acompany press release.
Funding for homeland security and public safety
Thanks to the 'war of drugs,' region-based SWAT teams were able to attract federal funds before 9/11. For example, in December 2000, Rep. John Olver helped the newly-formed Berkshire County Regional Strategic Response Team win a $300,000 grant for equipment, training, and the cost of call-outs. A sizable portion was spent on an bullet-proof military-style vehicle from Pittsfield-based Lenco Armored Vehicles at the time when Lenco Industries was transforming its military BEAR (Ballistic Engineered Armored Response) truck into a SWAT-friendly BearCat (Counter Attack Truck). With its order, the Pittsfield Police Department, which served as the nucleus for the seven-town SWAT team helped promote a local product that would soon be a trophy for SWAT teams across the country. The Berkshire Special Response Team has since grown to 14 member agencies. Its latest BearCat is still parked in Pittsfield.
The flow of federal funds increased substantially after the creation of the Department of Homeland Security in 2003. Federal grants provided for Massachusetts' five Homeland Security Regions (Northeast, Southeast, Central, Western, Metropolitan Boston] and the nine Boston-area communities that make up the Urban Area Security Initiative (UASI) [42] have been administered (not always efficiently according to one audit and the DHS Inspector General) by the Executive Office of Public Safety (EOPS) – later known as the Executive Office of Public Safety and Security (EOPSS).
Grants totaling more than $378 million have been allocated to Massachusetts (mostly to the Boston area) between 2003 and the end of 2011 through the State Homeland Security Program, the Urban Area Security Initiative and the Law Enforcement Terrorism Prevention Program and a few other grant streams. A significant portion of the funds has been earmarked for preparedness activities, technology, surveillance and other equipment, training and exercises. Richard Serino, a deputy administrator at the Federal Emergency Management Agency, testified before a Congressional hearing investigating the Marathon bombing that Massachusetts had received more than $943 million in FEMA preparedness grants since 2002.
But such federal largesse was not to last. By 2012, sequester budget cuts were looming and DHS funding to the states was at an "all-time low,"  with a reported decrease of funds to Massachusetts of 76 percent over the preceding five years. In 2013, FEMA's Richard Serino used his Congressional testimony Congress to urge that UASI and other grant programs be maintained and increased. The DHS answered the call with $17.5 million in Homeland Security grants for Boston, a substantial increase over the previous year.
Over the previous decade, DHS funds had ensured that structures to support inter-agency sharing and 'national security' data-driven policing were in place. In FY2007, the Metropolitan Boston Homeland Security Region received $11,368,000, including $1,450,000 under the heading 'Intelligence and Information Sharing.' The money was supposed to fund the creation of a 'secret room' where sensitive information could be reviewed in accordance with federal specifications, modernize Suspicious Activity Reporting capabilities and the analytical capacity of the Boston fusion center, the BRIC.
Tens of millions had been provided for technology and communications interoperability. In 2007, Community Oriented Police Services Technology (COPS-TECH) gave nearly $6 million for enhanced data sharing and "cutting-edge crime fighting technologies" while other federal grants supported the Massachusetts State Police-run Commonwealth Fusion Center. By 2008 the Commonwealth Fusion Center had, according to an October 2008 EOPSS report, [43] integrated the Statewide Information Sharing System (SWISS), which allowed multiple agencies to contribute police reports in real time to the Public Safety Information Warehouse which could be accessed by LEAs across the state; SharePoint, for the dissemination and management of information; the analytic tool COPLINK; CRIME SOLV, which promoted web based analysis; the Automated Critical Asset Management System that collected and stored critical infrastructure information; and Crime Ntel, "a repository that links individuals with associates, locations, and vehicles to assist officers and analysts in connecting the dots."
So much software and hardware, and yet Boston police were unaware that Russia had flagged – and the FBI had assessed and reportedly cleared – a Massachusetts resident who would go on to become one of the alleged Marathon bombers. Members of the Boston JTTF with sufficient security clearance could have retrieved that information from the FBI's eGuardian database, but the detectives who participated in the JTTF apparently did not know to look for it, a breakdown in the system of sharing information that the FBI promised to mend in a letter that its new head, James Comey, sent to the authors of the Inspectors General's report.
Much needed mending on the state level as well. In the DHS Inspector General'sFebruary 2013 report, Massachusetts' Management of Homeland Security Grant Program Awards for Fiscal Years 2008 through 2011, a litany of failings in grant administration is cited, including more than $4 million in questioned costs, an outdated Homeland Security Strategy that had not been periodically revised as required, the lack of a performance measurement system, the failure of EOPPS to make federal grants available to subgrantees within a required period and to monitor the subgrantee progress; the failure of subgrantees to comply with federal bidding requirements when purchasing equipment and conducting training courses ranging in cost from $30,000 to $147,000; deficiencies in UASI objectives, information sharing and collaboration; the fact that funds were not spent in a timely fashion. EOPPS pushed back on some of the criticisms, including one concerning a $147,000 SWAT course.
Equipping SWAT teams and police forces
As crime rates declined in the beginning of the 21st century, police forces bulked up, aided by the gush of federal dollars.
With DHS grants available to purchase armored BearCats (Ballistic Engineered Armoured Response Counter Attack Trucks), Lenco soon became the nation's leading SWAT vehicle manufacturer in addition to being awarded defense contracts. In areport on how DHS' Urban Areas Security Initiative funds were being used, Senator Tom Coburn stated that many of the grant-funded purchases of Lenco SWAT vehicles were $250,000 – $400,000 "boondoggles."
In Massachusetts, five BearCats were purchased in bulk with DHS grants in 2012, even as federal dollars sent to the Commonwealth were declining. The Central Massachusetts Law Enforcement Council (CEMLEC) bought one weighing 19,400 pounds for $300,000. It was a "big hit" when one of CEMLEC's member LEAs, the Auburn Police Department, showed it off at an elementary school.
The $250,000 BearCat now in the possession of the Cape Cod SWAT team was shown off at police 'Touch-a-Truck' event, while the BearCat purchased for the Southeastern Massachusetts Law Enforcement Council (SEMLEC) – which was formed in 2003 – "has been to a few National Night Outs and gotten good reviews and remarks from citizens who have seen the vehicle when it makes an appearance."
The Berkshire County Special Response Team drove its new $294,000 BearCat (replacing the armored vehicle it had purchased in 2002) to the annual Western Massachusetts police exposition in Holyoke. It was used for the first time in July 2012, when a 71-year-old retired police officer was involved in a stand off in the woods after reportedly starting a fire in his garage and threatening to kill himself when his wife served him with divorce papers.
MetroLEC reportedly used its BearCat 26 times in 2012, mainly for drug busts. But before they were seen in action in the streets of Watertown, the BearCats primarily served as a status symbol. In the words of Mattapoisett Police Chief Mary Lyons, "You don't miss them when they come down the road. We're living in the world of the unexpectable." [sic]
Why do these communities and the State Police need these armored 'counter attack' machines? Peter Kraska, who spent a lot of time with SWAT teams, has described "a kind of masculinity-infused arms race between police agencies that could often lead to an inferiority complex at smaller departments" which wanted to keep up with their bigger neighbors." [44] But according to Dennis Police Chief Michael Whalen, BearCats are "appropriate for what we deal with in the area." On Cape Cod? Whalen added: "The levels of firearms we see today are different than when I started in the 1970s."
While this is no doubt true, Radley Balko cites a 2004 study by the Justice Department's National Institute of Justice showing that assault rifles are infrequently used by criminals who prefer handguns to high-powered weaponry that takes considerable training to use effectively. "It was a strong piece of evidence undercutting the common argument from law enforcement officials that SWAT teams and military gear were essential because the police were in a non stop arms race with drug dealers and other criminals." [45]
Even where a presumed criminal with a gun is not behind the door, a violent 'no knock' entry by unknown masked men into a home that could be wrongly targeted ratchets up the likelihood of yet more violence, given the number of guns kept for self-defense against just such a home invasion.
Competition for 'homeland security' grants has also revealed some jurisdictional tensions. After the bombing of the Boston Marathon, Police Chief Gary Gemme of Worcester, which has its own SWAT team, applied for DHS funds for a bomb-detection dog to strengthen the "explosive counter-terrorism capability" of the entire Central Massachusetts region. But CEMLEC, the Law Enforcement Council that includes all 67 cities and towns of the 'Central Homeland Security Region' with the exception of Worcester, refused to provide a letter of support for his application unless the Worcester police department signed a Mutual Aid agreement with the Law Enforcement Council. Chief Gemme balked, declaring that this would "give other communities broad powers within the city of Worcester…We've been able to effectively police our community without this agreement for years." The Central Region Homeland Security Advisory Council eventually voted to give Worcester $113,000 in DHS funds for the dog, its training, and a vehicle to transport it, without CEMLEC's approval.
'Homeland security' grants have given police access to surveillance camera networks,automated license plate readers, biometric equipment, night vision and remote viewing equipment, long range acoustic devises, mobile unit computers, paramilitary gear and tasers, which some 130 police departments and state troopers now have in their tool chests. But they do not have to rely just on DHS funds to equip themselves for fighting the 'war on terror' and 'war on drugs.' The DOJ's Edward Byrne Memorial Justice Assistance Grant (JAG) Program provided Massachusetts with a total of $3,898,445 in FY2014, with awards going to 27 communities and New Bedford, Worcester and Springfield getting the largest grants. The JAG program gave Massachusetts $4,029, 533 in FY2013, $6,345,987 in FY2012 and more in previous years, with awards to local jurisdictions based on their share of all violent crimes reported by law enforcement agencies.
JAG Program funds can be used for, among other things, criminal justice technology, drug enforcement, undercover operations, task force training, SWAT equipment, the purchase of bulletproof vests, body armor, police cruisers, motorcycles and helicopters, and in "extraordinary and exigent circumstances" for command centers and unmanned aircraft (drones). In 2012, the Springfield Police Department applied for JAG funding to upgrade its information technology, for automated license plate reader (ALPR) hardware and software similar to what it had received with JAG funding "several years ago," and tactical weapons, among other items, adding up to atotal request of $170,077.
State grants are also available to police departments that want to update their technology. EOPSS administers a state-funded Bulletproof Vest Reimbursement Program and the Commonwealth Security Trust Grant Program, funded through the sales of 'We Stand With America' license plates. According to documents received from EOPSS in February 2013 as a result of our public records request, the Commonwealth Security Trust Grant Program awards made in December 2012 provided Lunenburg and Pittsfield police departments with interoperable radios, Fitchburg with an automatic license plate reader (ALPR), Northampton with "one portable electronic surveillance system with accessories," Orange with a $20,000 vehicle and Dalton with four mobile data terminals.
Why were these police departments successful in their grant applications? The Fitchburg application featured a narrative focused on threats it faced as a "gateway city" and the need for an additional ALPR (it apparently already had one) to fight crime and find the vehicles of "terrorist suspects."
Northampton, population 28,629, claimed portable surveillance equipment was necessary to deal with emergencies including "major civil disorder," and to monitor locations "having a pattern of criminal activities," especially in areas that do not permit "the use of conventional surveillance methods." What are the key problems the town faces? The pleasant college community in rural Massachusetts listed street crime, gang activities, drug trafficking, vandalism and bike larcenies.
Other applications that were not successful came from small towns like Phillipston (pop. 1,862), which wanted to fund "police marksmanship/judgment simulation hardware and software" following a "major multiple state, FBI and State police drug operation." The town was also applying for a Homeland Security grant to fund a formal training workshop for police.
Mid sized communities like Wellesley (26,613) and Belmont (24,720) wanted to embrace new styles of policing. Wellesley hoped to replace its mobile data computers with the latest version which would enable them "to query people they come in contact with through LEAPS/NCIC, the Commonwealth's Fusion Center using COPLINK, and the TriTech Cross Agency Systems" to identify 'persons of interest.' Belmont requested equipment for "force on force training" with air soft rifles, protective masks and propellant gas to prepare them to respond to a genuine "active shooter emergency" in the local high school "or a workplace such as the town hall."
Revere, a small city of 55,000 with its own Special Operations Unit, was also hoping for paramilitary training equipment – a mobile firing range, live fire judgment simulator and targets, as well as a high tech patrol model camera which would enable the SWAT team to see and identify objects in the dark. Similarly-sized Chicopee, which has its own SWAT team, applied for five sets of body armor, stating that the presence of the Air Force Reserve base made it at risk for a terrorist attack. "Chicopee Police and SWAT teams have been called upon to assist the US military in responding to emergencies and national security threats," the application stated.
Military equipment comes home
Law enforcement agencies in Massachusetts that did not have their perceived needs met through these and other grant programs could apply for free military hardware through the Department of Defense's Excess Property 1033 Program – an expansion of the earlier 1208 Program.
The 1033 Program is not for everyone. It is codified in US Code Title 10, Section 2576a, which stipulates that preference is given to applications for property that will be used in "counter-drug or counter-terrorism activities of the recipient agency." Even if they meet that criteria, some police departments and SWAT teams prefer to purchase the latest M16 rifles for their police officers out of asset forfeiture or other funds, rather than getting older ones through the military program. In 2009, the MBTA bought a set of 10 semi-automatic assault rifles with $13,000 from federal drug forfeitures. Property is conditionally loaned under the 1033 program, and is supposed to be returned to the Department of Defense at the end of its useful life. It is also supposed to be returned if not used within a year – a stipulation that can lead to armed 'overkill' situations to beat the deadline.
For police departments in Massachusetts that want to go the 1033 route, the application process is quite straightforward. It is overseen by the State Police in EOPPS. Authorized applicants (there are 358 agencies that are authorized to receive DoD material in Massachusetts, including some sheriffs departments, task forces and law enforcement councils, college and university police forces, the state police, local police departments and federal agencies) can check out the available weapons electronically through the website of the Defense Logistics Agency Disposition Services (until recently the Defense Reutilization and Marketing Service), or physically by visiting the nearest Defense Logistics Agency office. They fill out a simple formgiving their address, a point of contact, the number of full-time officers, agree not to give the equipment away, then list the items, quantity, and their intended use, and agree that the equipment will be used in accordance with the Memorandum of Agreement governing the program.
According to the September 2013 Memorandum of Understanding between State Police and local LEAs, priority is given to property requests for "counterdrug/counterrorism and then any other law enforcement activities." LEAs "may receive 100% ratios of M16 and 50% ratios of M14 rifles based on the number of compensated officers" – including part-timers. The MOU states that "in the absence of compelling circumstances, applications for weaponry not commonly used by municipal state or law enforcement agencies will be denied" and that "property received through the 1033 Program must be placed into use within one (1) year of receipt and utilized for a minimum of one (1) year" or else returned to the DoD's Disposition Services Site or transferred to another authorized agency either within Massachusetts or another state. LEA's are required to keep an "audit trail" for items of property from receipt to distribution, while the State Coordinator undertakes to conduct annual reviews of at least 5% of the LEA's and ensure they are in compliance with the MOU. The equipment is provided free of charge, with costs of transporting it to the requesting LEA, transferring it to another authorized agency or turning it in assumed by the LEA or state.
Oversight can be erratic. The 1033 Program was briefly suspended in 2012 following reports that the sheriff of Pinal County, Arizona had made "loans" of hundreds of thousands of dollars worth of 1033 equipment to various non LEAs, reportedly to gain political favor. The Pinal County Sheriff 's Office had received $7 million worth of equipment in just two years. The Defense Logistics Agency then sent letters to all 1033 State Coordinators asking them to survey and verify the locations of the equipment they had been given.
Earlier, in response to a June 15, 2009 article in The Boston Globe suggesting irregularities in how the program was being implemented within the Commonwealth, the Patrick Administration announced that it was launching a program review. Audits conduced by the DLA in 2002, 2004 and 2008 made no mention of The Globe'sfindings that "some departments got more arms than federal regulations allow. In some cases, the state has not enforced requirements that the arms be put to use within a year or returned to the military." Instead, they showed no major problems, according to documents we received from EOPPS in September 2012.
Only in one instance was an LEA told to do something differently: during a 2008 spot check, West Springfield was asked to label its large number of chemical/biological masks "for training purposes only." The DLA did fault the Governor for failing for years to appoint a permanent State Coordinator. It recommended that guidelines be drawn up to ensure proper weapons training and that LEAs that are not using weapons follow proper procedures for their disposal or transfer. It also suggested that limitations should be established "on the type of equipment law enforcement agencies may obtain through the program."
What kind of weapons has the 1033 Program brought to Massachusetts?
In 2009, after EOPPS withheld detailed information because it could "prejudice public safety by providing a tactical advantage to would-be criminals and terrorists," The Boston Globe got records from Defense Reutilization and Marketing Service (which oversees the 1033 Program) of the weapons – not the other material – obtained under the Program.
Between 1994 and 2009, 82 police departments and other authorized agencies in Massachusetts requested 1,068 military weapons – 486 fully automatic M-16 machine guns and 564 semi-automatic M-14s. While the State Police topped the list at 250 M-14s and 30 M-16s, the Boston Police Department (BPD) requested 100 M-16s in 2009 bringing its total to 200, according to the Globe. Commissioner Ed Davis' BPD planned to arm up to 200 regular patrol officers and give them 40 hours of training in order to "level the playing field" against heavily armed criminals. [46] When the plan became public and the BPD faced community opposition, Commissioner Davis pointed out that neighboring Brookline had put military weapons in the hands of its patrol officers and Boston should do the same. The plan was put on hold when Mayor Thomas Menino came out against it, declaring that M16s should be reserved for "specialized units."
Four years later, shortly before then-Police Commissioner Edward Davis left the BPD,he proposed training 99 patrol officers in the use of military assault weapons, to supplement the 60-strong BDP SWAT team that already had them. If the new mayor approved, the weapons would be purchased at a cost of about $3,000 each, including ammunition. This interest in purchasing new weapons and not inheriting Defense Department hand-me-downs explains why the data recently released by the Pentagon's Defense Logistics Agency does not list the Boston Police Department as a recipient of any material under the 1033 program.
Smaller communities and those not known for their crime hot spots also built up their arsenals. Medford got a total of 21 M-16s and two 12-gage shotguns, Duxbury got 6 M16s, as did Hamilton. Wellfleet went for four M-14s – it got 3 of them for its 14-member police department which sat in storage when they could not be fitted with appropriate sights. It also got three 38-caliber revolvers. West Springfield broke new ground by obtaining two grenade launchers (which Police Chief Thomas Burke said could be used to fire tear gas in case of a riot), a sniper rifle, and 4 M-14s. (According to the recent White House report on the transfer of military equipment to local law enforcement, grenade launchers are not supposed to be transferred under the 1033 program). [47] The grenade launchers were reportedly "mothballed in an armory for more than a decade." The Globe reported that Clinton (population 13,500) ordered 18 assault rifles because, in the words of its police chief, "You never know what's going to happen. Anything can happen, anywhere."
You can see a map here showing where the weapons found homes by 2009.
The Globe found that in some cases the weapons were not used within the year specified by the existing Memorandum of Agreement (including the West Springfield grenade launchers), that some police chiefs called them albatrosses and were afraid to have officers use them because of their lack of training. Some departments like Marblehead and the school police at Bridgewater State College got more weapons than they were entitled to given the size of their police forces, and many police departments did not inform their communities of their military acquisitions.
According to a list of 1033 requests obtained by the ACLU of Massachusetts in January 2014, 92 police departments and other agencies in the state have requested a total of 1,258 weapons under the 1033 Program, indicating a growing interest in outfitting LEAs with paramilitary gear. [48] There are some discrepancies between the 2009 Boston Globe figures and this later list that are not readily explained. For instance, Belmont, Boston, Bridgewater State, Chelsea and Hanover appear on theGlobe's list of agencies that had requested weapons by 2009, but are omitted from the later list obtained by the ACLU.
When we asked about the discrepancies, what we were told gives an indication of just how difficult it is to keep track of what is where at any given time. The Program is so "fluid" that being approved for weapons does not mean an agency receives them. Some police departments applied for but never received weapons because the military had put weapon transfers on hold – possibly because of the 'loans' made by the Pinal County sheriff. The Boston police department requested and was approved for weapons, but then withdrew the request – presumably in response to Mayor Menino's intervention. Hanover police destroyed their weapons according to Defense Department guidelines because they were "not serviceable." Some police departments transferred their weapons. We were told that the list we had been given is an account of weapons "on hand" at a certain time.
Neither does the information that the Pentagon's Defense Logistics Agency posted online in November 2014 provide a complete picture of property transferred under the 1033 Program. In the words of the Marshall Project, "The data released includes only tactical equipment currently tracked by the Pentagon. Other transfers, particularly in the early years of the program or of equipment transferred between agencies or no longer in use, may not be included."
But the wealth of information it provides shines a light on police departments around the country that have been transforming themselves with military gear. Massachusetts residents can use the Marshall Project tool to see if their police departments have obtained a share of the $12,905, 378 worth of equipment transferred to the Commonwealth under the 1033 Program, with the Massachusetts State Police getting the lion's share ($2,246,923). Or they can go directly to the Defense Logistics Agency online posting and get a more detailed record, including dates at which material was shipped.
This could lead to some revealing discussions with local police departments. What, for instance, prompted the Cambridge police to obtain 25 military assault rifles in 2010, Auburn to get 28 military rifles and pistols in 2012 and the Lexington police to get 14 military assault rifles in 2013? Why did Leyden (population 711 in 2010) obtain no fewer than 28 non-weapon items in 2014, ranging from cargo trucks to 15 'sling, 3 point combat assault systems' (strap holders for assault weapons) at a total value of $549,522? The answer might seem obvious: because the equipment was available and free for the asking. But what costs to the tiny town are involved in transporting the equipment to Franklin County, maintaining it, keeping the required audit and returning it to the Department of Defense when it is no longer of any use?
Paramilitary training
Obtaining powerful military assault weapons has proved simpler than developing the policies and procedures and providing adequate training for their use. And in the words of a lawyer for the MBTA Patrolman's Association, "Issuing sophisticated weapons without concern for how they're being utilized is frightening."
The National Tactical Officers Association has developed model SWAT standards for LEAs and proposed a national training policy and national guidelines for how multiple SWAT teams can work together with other agencies and the National Guard. Although some towns in Massachusetts have developed their own written SWAT standards – examples are Framingham (before it disbanded its SWAT team) and Fall River – judging from the case of Cape Cod, Law Enforcement Councils may have only draft policies and procedures.
We were told by one SWAT chief that in terms of how SWAT teams are regulated, Massachusetts ranks near the bottom in the country. The state has no post certification program to keep skills honed, and police officers are seldom sanctioned when they make serious mistakes. SWAT teams have to arrange their own training sessions that generally consume one day a month, as well as a week-long training every year. Although SWAT trainings may be somewhat haphazard, we were told that SWAT involvement is usually less risky than intervention by non-SWAT police officers armed with military weapons, since they generally get less training than that afforded members of a SWAT team. Furthermore, many members of SWAT teams are themselves army veterans who have already received training in their use.
Although the Massachusetts Law Enforcement Councils have a broad mission that includes responding to a range of natural disasters and emergency situations not involving crime, training appears to be mostly – if not entirely – focused on a paramilitary response to suspected criminal activity or some kind of civil disturbance. Thanks to substantial federal grants and ample coverage by local media, large-scale paramilitary training has raised the public profile of SWAT teams and conditioned residents to accept military-style operations as an essential public safety measure. With instructors drawn from private contractors, the State Police Special Tactical Operations team and (frequently) the Los Angeles Police Department, SWAT teams have staged 'active shooter' and hostage simulations in schools, empty buildings, former military facilities, farms, suburban centers and city streets. Photos and videos of heavily armed SWAT teams "swarming" buildings have brought video games to life and burnished the macho credentials of local police participants.
Some trainers are local. For instance, the Tactical Response Team of the Martha's Vineyard Law Enforcement Council recently took an advanced rifle course on Chappaquiddick provided by Vineyard-based Offshore Kinetics, which had been formed by a local US Army veteran to give tactical training to law enforcement agencies. The Martha's Vineyard Tactical Response Team was one of the numerous SWAT teams that took part in the Boston Marathon manhunt.
School-based trainings are held in hopes of averting another Columbine or Sandy Hook massacre. This  video shows an exercise in May 2012 at New Hingham Regional Elementary School led by State Police and funded with a $21,000 homeland security grant. The previous month, the Dover Police Department hosted MetroLEC, SEMLEC, NEMLEC, Cape Cod Regional SWAT and the Middlesex County and Plymouth County sheriffs' offices for a multi agency training involving more than 100 officers at the Dover Sherborn Regional Schools complex. CEMLEC gave the Hopkinton police eight hours of 'active shooter' training in August 2014.
A Department of Homeland Security grant enabled SEMLEC to stage a particularly gruesome simulation of a school shooting and hostage situation in August 2013. A high school in East Bridgewater that was scheduled for demolition "afforded SWAT team members the chance to practice techniques, such as ramming locked doors open and using non-lethal ammunition without having to worry about damaging school property." Local students volunteered to play wounded or dead victims, with pools of blood and other lurid signs of carnage provided by a "wound-simulation kit, complete with fake blood and prostheses mimicking shotgun wounds, burns, and deep gashes."
What was the point of making the exercise that lasted more than two hours so visually shocking and involving local youth in its production? According to its designer, East Bridgewater Police Sergeant William McLaughlin, "It's going to feel a little bit more realistic for them, so that if they do ever come into this situation, then they'll be better prepared to act in the manner in which they should, and not freeze up."
Some institutions of higher education are getting their own vicarious experience. In January 2014, while students were away on a break, the MetroLEC SWAT team carried out an elaborate simulation at Dean College in Franklin involving a 12-person command center and 48 officers deployed around the campus. Six members of the campus faculty were evacuated to SWAT trucks.
Not all the funds are federal. Stating that it took 45 minutes for a SWAT team to show up at Columbine – a fact that seemed to undermine the case for regional SWAT teams – Agawam Police Chief Robert Campbell convinced the city council toappropriate $35,217 for a departmental training at Agawam High which would be led by a local retired federal Alcohol, Tobacco and Firearms officer. About a third of that amount was reserved for ballistic helmets and shields, and the rest for overtime and a stipend for the trainer.
Some Massachusetts police departments have used their Citizen's Police Academies to promote the message that they need to adopt the kind of equipment and training associated with SWAT teams just in case there is an 'active shooter' at a local school and regional SWAT teams don't arrive in time to save children from bullets. For instance, in a six-week long course in 2010, the Amherst Citizen's Police Academy held realistic simulations took place in Amherst Regional Middle School, where, according to a piece published on GazetteNET (February 24, 2010), "seventeen rapt onlookers – spread out in the hallways and the classrooms – watch as the simulated scene plays out. The police are carrying Simunition pistols, weapons that contain blank paint cartridges used for training, which can leave marks on targets but are non-lethal. The suspect, too, is firing a gun loaded with blanks….In addition to the classroom drama, the students got to see how a high-risk warrant is issued and had a chance to shoot blanks at a target set up in the hallway."
Not all parents are happy to have schools taken over by SWAT teams, especially when they are in session. Parents in Kingston questioned the wisdom of the live drill at Silver Lake Regional Middle and High School, when, in January 2013, two dozen SWAT members ran through a school with their unloaded weapons drawn. At the Timony Grammar School in Methuen, some students were terrified when a SWAT team broke into the school with fake weapons in May 2012. The drill was not new: Methuen schools have been holding such 'lockdown drills' annually and sometimes twice a year since 2004. But recently, authorities have not been informing parents since some of them keep their children home on those days. "Police say they bring the fake weapons along with the rest of the SWAT team gear into schools every year in order to help students get comfortable and prepare them for what an emergency drill might look like."
Getting 'comfortable' with SWAT raids – that is a new goal for public education. For now, Methuen is priding itself on being in the vanguard of how to respond to school shootings. And there is money to be made by at least one Massachusetts-made company, Shooter Detection Systems, which uses a system of sensors developed for the military in Afghanistan and Iraq to cut the time needed to respond to gunfire. On Veterans Day 2014 the system was demonstrated to law enforcement officials and Rep. Niki Tsongas of the House Armed Services Committee in a Methuen school, the first public school in the country to be outfitted with the sensors. The Methuen school superintendent reportedly hopes to find the funds to supply four more schools with shooter detection systems, with costs ranging from $20,000 to $100,000 per system.
Whether parents like it or not, many more 'active shooter' training operations are likely to be staged in schools in the coming years as EOPPS is awarding $320,032 in JAG funds to the State Police to offer its Special Tactical Operations Team's active shooter training to local police departments. Expensive technological 'fixes' may soon be subsidized by federal grants, although Methuen, Haverhill, Dracut and University of Massachusetts Lowell were not successful in their initial $2 million grant application.
Non-school SWAT trainings are on a much grander scale. The most elaborate and lavishly funded exercises go under the moniker 'Operation Urban Shield.'  In November 2012, 15 Massachusetts SWAT teams and 45 other departments and agencies carried out a 24-hour simulation involving a cruise ship rescue on Quincy harbor, a hostage scenario at a Brookline cinema, a SWAT raid on a Boston police station and a mass casualty event at UMass Boston and all-hazards training at Boston area hospitals. According to one account, "The drills are intended to be strikingly lifelike. Urban Shield has worked with Strategic Operations, a Hollywood effects company that also helps prepare army medics for the battlefield." The preview of the event resembled that for a Hollywood action movie.
Ten instructors from the Los Angeles Police Force led 130 participants from six regional LECs and the Boston police through a major 'Boston Urban Shield' exercise at the former South Weymouth Naval air station in May 2011. A video of the event features explosions, live fire and what appears to be a military operation.
The $200,000 Boston Urban Shield training scheduled for 2013 would have involvedbackpack explosives at Faneuil Hall, the Seaport District and in other towns. It was postponed after the Boston Marathon bombing.
After the media and government officials held up Urban Shield exercises as one reason why Boston's first responders reacted so professionally in the aftermath of the bombing, the May 2014 Boston Urban Shield was, predictably, the largest and most elaborate ever, involving some 2,000 participants in a series of paramilitarized drills. But, as WBUR's Bruce Gellerman reported, the drills did not test the kind of 'self-deployment' that occurred in Watertown during the Marathon manhunt, when first responders rushed to a scene without adequate command and control leading to, in the words of the Harvard study, "confusion, command challenges, crossfire situations, and other conflicts in a number of instances." The DHS is spending some $600 million on Urban Shield exercises around the nation this coming year.
While Urban Shield trains paramilitarized police to respond to a variety of situations, other SWAT trainings focus on a single operation. On January 2013, Cohasset residents were warned in advance before MetroLEC rolled into town with the appearance of an occupying army to practice serving a 'high risk' warrant. A 'high risk encounter' was the theme of a full-day drill on Martha's Vineyard carried out by the local Martha's Vineyard SWAT team and Cape Cod LEC in March 2012. The exercise was closed to the public and press "due to the sensitive nature of the training."
There are also smaller operations, such as a CEMLEC demonstration of its car 'take down' prowess complete with flash bang grenades. Nahant residents flooded the police station with calls about what they thought was an ongoing drug raid. It was just a SWAT exercise for officers from Revere and Everett taking place in an empty house. On at least one occasion, a 'situation' developed during a SWAT practice session. MetroLEC just "happened to be training in town" when the Dedham police got word that there were two people who might have guns in a multifamily house. So the police closed part of Dedham Square while MetroLEC "cleared the house" and found "evidence of paintball guns."
In addition, there is the training that takes with the military at Hanscom Air Force Base, where the Massachusetts State Police STOP Team conducts 'active shooter' scenarios for the 66th Security Forces Squadron and local law enforcement. It is all but impossible to distinguish the STOP team from the military when it shows off its weaponry and shooting skills as in this video. The Massachusetts State Police were the winners of the 2011 Glock Mystery Challenge in Connecticut – to see why, see here.
More frightening are the training exercises carried out without warning by the US Army. According to the Jamaica Plain Gazette, some local residents were scared and astonished when, in August 2011, military commandos from US Special Command executed a nighttime helicopter landing on the roof of the Agassiz Elementary School and took possession of the school building. "It just seems nuts to me," said one local resident. "Don't they have a site where they could do this where they wouldn't be alarming people and creating a sandstorm?"
In August 2012, military helicopters flying low over the town and explosions at a school in Plainville shocked residents and inhabitants of Worcester got a scare when several US Army Blackhawk helicopters buzzed neighborhoods and landed near Worcester Memorial Auditorium. Some people thought the city was under attack.
One Worcester resident was quoted in the August 2, 2012 Worcester Telegram and Gazette:
Usually when you have helicopters doing strafing runs thru neighborhoods with searchlights and see soldiers rappelling onto rooftops it doesn't instill you with a sense of safety and well being. I thought there was either a drug raid, escaped convicts, or perish the thought…a terrorist attack. Don't you think it would help put the public's mind at ease to know that there was a reasonable explanation for all this hubbub especially since it was ONLY a training exercise?
The 'Public Safety Night' held in the affluent suburban town of Pembroke to mark its 300th anniversary speaks volumes about where the country has moved in the dozen years since 9/11. The event outside the high school featured a Black Hawk helicopter, members of the National Guard and the Boston SWAT team, and children holding military weapons.
V. SWAT teams in action
Terrorism became the new reason to arm American cops as if they were soldiers, but drug offenders would still be their primary targets. [49]
The last dozen years have seen little opportunity for militarized SWAT teams to go into action in the 'war on terror,' with the 2013 Boston bombing being a tragic exception. Given the preparation and the hype, it is perhaps understandable that on April 19, 2011, after reports from mall security that a man with a backpack and a 'rifle' had gone into a bathroom, the NEMLEC SWAT crew in body armor and carrying shields, 40 officers from the Burlington police, the State Police and agents from the Bureau of Alcohol, Tobacco, Firearms and Explosives and from Immigration and Customs Enforcement (ICE) all converged on the Burlington Mall. Stores immediately closed as shoppers ran for safety.
Fortunately, a surveillance video of the 'suspect' leaving Sears enabled the police "to determine the object the man was carrying was an umbrella and not a rifle." When the 'suspect' heard of the commotion he had inadvertently caused, he called the police from a nearby hospital where he worked. They went to interview him to ensure that "he was not a threat." The hospital reported that the unnamed man "feels terrible about the situation."
It is not clear whether he blamed himself for carrying an umbrella to the mall, thereby summoning up such an expensive, potentially lethal response, or whether he felt terrible because this was what his country had come to.
The SWAT mandate
The National Tactical Officers Association defines a SWAT team as a unit established "to deal with incidents involving a threat to public safety which would otherwise exceed the capabilities of traditional law enforcement." SWAT teams, it states, can be used for "hostage rescue, barricade, sniper, high-risk warrant service and high-risk apprehension, dignitary protection, terrorism response, special assignments." In its view, the "primary purpose of SWAT is to provide a systematic approach to saving lives in accordance with the priorities of life and the specific standards set forth herein, in concert with the totality of circumstances presented."
There is no State Tactical Association in Massachusetts to encourage local SWAT teams and the LECs to adhere to the standards laid out by the National Tactical Officers Association. Towns involved in Law Enforcement Councils make their own decisions about when to call for a SWAT team, sometimes utilizing a numerical 'threat matrix' to enable them to assess the level of the threat involved, including whether a suspect may be armed or have a record of violence.
The ACLU of Massachusetts has not to date received SWAT policies from the LECs. The two SWAT policies we have seen are from towns that at the time had their own SWAT teams – Framingham (where the SWAT team was officially disbanded on September 26, 2013) and Fall River. They spell out procedures that vary according to whether it is an emergency situation (active shooter, hostage taker) or a pre-planned event, such as serving a warrant.
In non emergency situations, the Framingham SWAT team was supposed to document in writing the planning process and maintain a log of events on all SWAT operations. The SWAT Commander was required to forward a post-incident written report to the Chief of Police that includes use of weapons, property damage and injuries to any persons. An "after-action critique" was required following each operation – a stipulation required as well of regional Law Enforcement Council SWAT teams.
The Framingham SWAT policy, which was issued in July 2003 and posted on the Police Department website following the January 2011 killing of Eurie Stamps during a SWAT raid (and has since been removed), also detailed the Team Member selection process, various trainings, the military-style gear that must be worn, what equipment the SWAT team possessed and how it was to be stored. Special training was required for use of 'primary entry weapons' including a "short-barreled weapon, which enables a team member to acquire rapid target acquisition, enhances high levels of accuracy, and provides maneuverability, reliability, stopping power, and sustained fire capacity," high caliber rifles, less lethal weapons or ammunition, noise/flash diversionary devices and breaching tools and ammunition. It stipulated that SWAT team members must train at least 40 hours a year plus 18 hours each month.
Just a few months before the Framingham SWAT team was abruptly terminated by its outgoing Police Chief Steven Carl, it had received a standing ovation from a Framingham Town Meeting for its role in the Boston Marathon manhunt. Carl subsequently cited the presence of the State Police SWAT team operating out of its Framingham barracks, the existence of a regional LEC, and the departure from the department of his Deputy Police Chief and SWAT head, Craig Davis, as reasons for shutting down the town's paramilitary unit, stating that "it would take five to ten yearsto train someone else with Davis' qualifications." Davis went on to become the chief of police in nearby Ashland, which was reviewing its own police rules and procedures in the wake of a non-SWAT operation where Ashland police shot dead a 27-year-old armed man on whom they were serving a bench warrant. The senior police officer on the scenes – who was not the shooter – was a member of NEMLEC.
The Fall River 'Standard Operating Procedure' was reviewed in November 2012, and changes were made to the original document that had been issued on September 12, 2001. The name of the Fall River PPU was changed from the Emergency Response Team to the Emergency Services Unit in January 2011. In addition to responding to "critical situations" such as hostage taking, dealing with an armed barricaded subject or making a drug raid, the policy specifies that the Unit could be utilized in a search for a "lost or missing endangered person" and in "disorders or in riot situations, such as crowd control." Additional duties include "dignitary protection," "formidable evacuation operations," and "counter-protection in the transportation of drugs or extreme valuables used as evidence or earmarked for destruction." It can also be "used in any event that overwhelms the resources of the Uniform Division." The policy refers to "crowd control," dealing with "civil disorder" and "public disorder." In the selection of team members, it states that "military experience (if applicable) " is "beneficial to the team."
As required in Framingham, the SWAT team leader in Fall River is supposed to file reports with the police chief. Only a minimum of eight hours of training is required a month – less than half of what was required each month in Framingham – in addition to 40 hours of annual in-service training. (In 2013 the Fall River Emergency Services Unit got SWAT training from SWAT team pioneer, the Los Angeles Police Department). The Fall River policy states that "the team leader is responsible to ensure that members who use special equipment (i.e. rifles, stun grenades, etc.) are trained and, when necessary, certified in the use of such equipment." No light is shed on what 'etc.' refers to as some entries on the list of equipment are redacted.
As Eurie Stamps' killing demonstrated, utilizing paramilitary force in policing operations is fraught with peril, and training is vitally important. In the words of the Waltham Police Chief Thomas LaCroix, referring to his experience when he was amember of NEMLEC, "When the guys go into a building, they want to make sure everyone who goes in comes out, and nobody gets hurt. Unfortunately, things happen." A year after LaCroix made this observation, 'things happened' to him too when he was arrested for assaulting his wife and suspended from his job. He wasconvicted on assault and battery charges in June 2013.
Sometimes things happen to people who just happen to be passing by, such as theterrified couple who were forced from their car at gunpoint and handcuffed on the ground, while police from seven towns and a SWAT team converged on Mendon in response to reports of a barricaded shooter. They shut the streets, evacuated 60 homes and surrounded the wrong house with guns drawn. Radley Balko reported that one of the officers in a mistaken raid in Boston "apologized as he left, telling the home's terrified occupants, 'This happens all the time.'"
And SWAT training itself can be dangerous. In February 2013, a Chicopee police officer was shot in the face and seriously wounded during a SWAT training exercise at a vacant housing complex near Westover Air Reserve Base. According to one report, Chicopee's acting police chief told the press that "officers were not supposed to be using loaded weapons during the exercise but did not explain how the mistake happened. Police had participated in a training earlier in the day with weapons and ammunition."
But it isn't just genuine SWAT raids that endanger people. Around the country – and in Massachusetts – masked criminals have staged home invasions or stopped carsposing as SWAT team members.
Then there are the dangers associated with revenge hoaxes. In a Department of Justice press release announcing the charges brought against a 22-year-old Athol man, Nathan Hernshaw, the DOJ stated that there is now "a practice known as 'swatting,' which involves making hoax emergency telephone calls in order to elicit an armed police response (from a SWAT team) for the purpose of harassing someone believed to be at a specific location." In August 2013, Henshaw pled guilty to three charges of 'swatting,' involving 'swatting calls' to police departments across the country. The DOJ reported that "Henshaw generally claimed to be calling from an address that, unbeknownst to the law enforcement officers responding to the call, was the address of his intended swatting victim….In each case, armed police responses ensued. In response to Henshaw's call to Ventura [CA], more than 40 local and federal officers arrived at the purported crime scene, a hotel was evacuated and nearby streets were closed for several hours."
The country may be awash with weapons, but the theft of military-grade weapons from SWAT teams still appears to be a major concern. When two high-powered military rifles (one a sniper rifle) were taken from an FBI SWAT vehicle in Andover in November 2013, the FBI offered a reward of $20,000 for their return and reportedly took a 16-year-old into custody. The weapons were later found in Lawrence.
SWAT team 'call outs' in Massachusetts
So how have SWAT teams been used in the Commonwealth, and how frequently have they been sent into action?
We have to date been unable to get SWAT incident reports and numerical information on annual call outs, with the exception of the 2012 statistics regarding the Framingham SWAT team which, as agreed after the Stamps' killing, were published in the town's Annual Report. On page 106 of the 2012 Annual Report we learn that in 2012 the Framingham SWAT team conducted "four high risk tactical missions. These operations were in support of the narcotics unit during the execution of search warrants. All tactical missions involved suspects that were armed with weapons and/or had histories of violent criminal acts. The SWAT team also intervened with a suicidal suspect who had a large cache of firearms. The incident was quickly and safely resolved and resulted in crisis mental health treatment for the subject." Each SWAT team member had a minimum of 280 hours of training in weapons use, building entry and search techniques, while members of the SWAT Crisis Negotiations Unit had their own training "in crisis communications."
This Framingham report highlights two of the areas where, judging from the media and police department press releases, SWAT teams are regularly involved. Here, as across the nation, the 'war on drugs' remains – thanks to asset forfeiture – a 'bread and butter' matter. It is not clear what, if any, the impact will be of the January 2013 federal district court ruling in the case US. V. 434 Main Street, Tewksbury in which the owner of Motel Caswell won his battle against the federal government's attempt to seize the motel on the grounds that it was the site of drug busts. The US Attorney's office in Boston has decided not to appeal.
Just as in the fatal Framingham raid where there was no mention of a weapon on the search warrant, SWAT teams have taken part in actions involving drugs and arrests for crimes that do not as reported in the press appear particularly 'high risk.' Back-to-back SWAT raids in Randolph and Bridgewater in May 2013 led The Enterprise, an area newspaper, to broach issues about the necessity and expense of this kind of "military-like response" that do not generally get raised when there are SWAT actions: "While SWAT teams are a safe way to handle very dangerous situations, law enforcement officials have to be careful not to overuse the response since it is expensive and does cause some concern in communities, one expert said." Just how expensive is not clear since, The Enterprise was told when it tried to find out this information, "every response varies."
Regardless of the considerable cost of call outs, especially when overtime pay is involved, SWAT deployments seem likely to increase. The prevalence of guns in society has contributed to the assumption that weapons may be involved, leading to the use of SWAT teams as a precautionary measure in cases involving drugs, domestic disputes and the increasingly frequent incidents where SWAT teams resort to their 'shock and awe' methods to serve a 'mental health' function.
Here is a chronological sampling of SWAT actions in Massachusetts over the past six years.
SWATs police the 'war on drugs'
• In December 2009, after keeping an apartment under surveillance for more than a month, the Brockton Special Reaction Team raided the house on Second Street. The team was reportedly brought in as a "precaution after two recent cases, one in New Bedford and the other in Providence, where police officers conducting drug raids were fired on."
• In September 2010, SWAT team entries were made in two houses in Webster and one in Dudley by members of MetroLEC and the South Worcester Country Drug and Counter Crime Tsk Force. Marijuana, crack cocaine, money, packaging materials, scales and a stun gun were seized.
• In December 2010, CEMLEC, and federal DEA agents as well as the Marlborough police raided a house in Marlborough that they believed to be a methamphetamine lab and arrested a man on drugs and weapons charges. "Marlborough detectives sought help from federal authorities because of the serious danger associated with people involved in manufacturing methamphetamines."
• In January 2012, the State Police SWAT team, and Southboro and Framingham police used a 'no knock' warrant and K-9 dogs to raid the Southboro Motor Lodge. They arrested a 20-year old Framingham man and the 19-year-old woman he was with on firearms and drug distribution charges.
• In April 2012, the Northern Bristol County Regional Drug Task Force with the support of the MetroLEC canine unit conducted a sweep of the interior of a locked downMansfield High School and the adjacent parking lot. Two students were issued with civil marijuana citations.
• In May 2012, the Boston Police SWAT team obtained a 'no-knock' search warrant and raided a house in Charlestown on suspicion of drug use and prostitution. They found "strong evidence of a drug operation, including cocaine, marijuana, a digital scale and plastic bags," as well as $2,800 in cash, sex toys and condoms.
• In September 2012, the MetroLEC SWAT team burst into the house of a Braintree man at 5 AM and arrested him on charges of drug trafficking. Another man, who was homeless, was arrested on charges of conspiracy and being present where heroin is kept.
• In January 2013, Yarmouth Police and the Cape Cod Regional SWAT team raided the Cape Cod Vacation Condominium Complex and arrested a 24-year-old man who was charged with possession of heroin with intent to distribute. They found in his apartment $200 in cash and $400 worth of heroin.
• In February 2013, Beverly police and the NEMLEC SWAT team served a 'high risk' search warrant on a rooming house in Beverly, and arrested Roland Masse, who was identified by ICE as an 'illegal alien,' on gun and drug trafficking charges. The police said "the SWAT team was necessary because Masse kept a large pit bull in his room" and because of "the presence of other residents with criminal backgrounds" in the house.
• In May 2013, after a month-long investigation by Barnstable narcotics detectives, theCape Cod SWAT team entered a house in Centerville to assist the Barnstable police in serving an arrest warrant on a resident who had previously been charged with illegally possessing a firearm and trafficking in oxycodone.
• In July 2013, the State Police STOP team and local police attached to the Northwestern District Anti-Crime Task Force armed with a 'no-knock' warrant raided a house in Orange, and killed 23-year-old Corey Navarette who was suspected of selling Percoset and oxycodone. A 25-year-old woman was wounded in the raid. The Northwestern District Attorney's office cleared the state trooper who fired the shots on the grounds that Navarette was holding a semi-automatic rifle which he failed to drop "despite being twice ordered to do so."
• In February 2014, a 5 AM drug raid in Peabody by the NEMLEC SWAT team, the Bureau of Alcohol, Tobacco and Firearms, a Salem police K-9 unit and police officers from Danvers, Salem and Ipswich resulted in the arrest of a 35-year-old and 17-year-old and the seizure of heroin and cocaine "as well as handgun and assault rifle replicas."
• In April 2014, after a six-month investigation into an alleged heroin ring, six people were arrested during raids on a house in Brockton and another Marshfield involving local, regional and federal law enforcement officers including the Brockton Special Reaction Team and detectives, Marshfield police detectives, Easton police detectives, the federal Drug Enforcement Administration, the Cape Cod Task Force, the Old Colony Drug Task Force and the Northern Bristol County Drug Task Force.Nearly a pound of heroin was seized with a street value of $60,000.
• In May 2014, CEMLEC spearheaded a raid on a home in Ayer, which netted cash, marijuana, the painkiller Percocet and firearms, and led to the arrest of a 57-year-old man who now faces drug and weapons charges. The Boxboro police chief praised detectives from Ayer, Acton, Grafton, Boxboro and Littleton who were involved in the investigation, and the "show of teamwork" that "has given police an unprecedented ability to damage the drug trade."
SWATs police domestic incidents
• In July 2011, after a massive manhunt involving SWAT teams and "police from East Bridgewater, West Bridgewater, Raynham, Middleboro, Halifax, the Plymouth County Sheriff's Department, Bridgewater State University and transit police from Boston, along with state police, K-9 teams and helicopters," Albert DeAndrade, "who police said had fled his home, possibly armed, after a domestic dispute with his girlfriend," was captured, unarmed. No one had been injured in the domestic dispute. "During the search, police and SWAT teams carrying automatic weapons patrolled the High and Oak streets area" in Bridgewater and stopped and searched cars. They had earlier kicked open the door to the apartment belonging to DeAndrade's 86-year-old father after he reportedly offered them a key. DeAndrade's brother called the action "overkill' while one resident said she and her children "enjoyed" watching the police do their work and would rather the police "err on the side of caution."
• In April 2012, a domestic dispute involving William Coffone, who reportedly had been drinking and threatened to kill his daughter and girlfriend, led MetroLEC to clear families from their homes in the vicinity of his house in Franklin. Wearing body armor and thermal goggles, police drove down the street in SWAT vehicles and set up a command post. A high school senior said he saw three armored trucks "and was told he would be arrested if he went any closer to the home." After three hours, Coffone emerged, unarmed. A .357 Magnum was recovered from his home.
• In October 2012, Beverly police and members of the Elliot Community Human Services went to the home of a 65-year-old Beverly man, Michael Gallagher, who had "sent an email to his social worker terminating services, advising them not to involve the police because 'any attempt by police to enter my apartment will be met with deadly force.'" After Gallagher refused to cooperate with the police, they were able to open the door and saw him holding a large butcher knife. After he succeeded in slamming the door, the NEMLEC SWAT team was called, along with backup officers and the Beverly firemen. The SWAT team reportedly "breached the apartment" and tasered Gallagher when he "came at officers in a threatening manner." He was taken to Beverly Hospital for treatment.
• In January 2013, the MetroLEC SWAT team surrounded a house in Walpole after a family argument escalated and the mother, father and sister of 23-year-old Alexander Caci told police he had threatened to shoot them. After trying and failing to establish contact with him, they "did a dynamic entry and the K-9 dog located him in the upstairs bedroom sound asleep. The dog bit him as they were taking him into custody and he was placed under arrest." No weapon was found, and Caci had no record of violent crimes.
• In April 2013, a custody dispute in Wareham involving a man who threatened to harm himself eventually resulted in the arrival of the Mass State Police Special Tactical Operations Team which used gas cartridges to get him to leave the house. He was taken to the hospital for a psychiatric evaluation.
• In September 2013, Marion police and the SEMLEC SWAT team used a robot with a video camera to locate Jeffrey Tosca sleeping on a couch prior to entering and arresting him at 4 AM, six hours after they first surround his home. Tosca's mother, who was attending an out-of-state wedding at the time, had called the police to tell them about a phone call in which her son threatened his father and a Marion police officer. Police found weapons at the home. At Tosca's arraignment, he reportedly said that "members of the Marion Police Department unfairly targeted him and his father, a corrections officer, during a previous interaction" and that Marion officers "taunted him" as he was being arrested.
SWATs police the mentally distressed
• In December 2008, police from a half-dozen towns who were members of theMETROLEC SWAT team rushed to surround a house on a quiet street in Braintree which was lived in by 61-year-old Christine Michalosky. A 36-year veteran of the Boston police force, Michalosky was one of its first women officers. Helicopters circled overhead as the SWAT team shone a floodlight on the house. Eventually, neighbors saw a screaming woman taken from the house and put in an ambulance. A Boston police spokesman said that "Michalosky was 'dealing with some medical issues' and the heavy police response came because, as an officer, she was clearly armed." According to Boston Herald reporter Jessica Van Sack, on the weekend before she was taken away by the SWAT team, Michalosky had reportedly "spent hours buying Christmas presents for the children at Bromley-Health, a public housing project in the district she commands" and the health issues that were alluded to by the police "were a breast cancer diagnosis and heart ailment." Van Sack wrote that "the Boston Police Department was concerned about her being potentially depressed and wanted to be sure that Michalosky's recent selfless spending wasn't a sign of imbalance. After the Boston Police Family Assistance Unit knocked on her door at about 4 pm and Michalosky didn't answer, a tactical operation was launched to locate her."
• In December 2010, the Boston Police and the Boston SWAT team  evacuated residents and shut down a street in West Roxbury after a man believed to be suicidal because he just lost his job as a registered nurse was seen driving erratically. After he rammed a police cruiser, the man was barricaded in his car. After four hours of negotiations the SWAT team rushed the car and arrested the man who was taken to the hospital to be treated for injuries he sustained during the arrest. He was charged with assault and battery on a police officer.
• In September 2011, parents called the police because they were concerned about the welfare of their 22-year-old son, a Sudbury resident. According to a police press release, he had "threatened to harm himself or any officer in his presence." Police officers from Sudbury and Lincoln tried unsuccessfully to get him to leave the house. Fearing he might have access to a gun, they called MetroLEC and evacuated nearby residents. "SWAT personnel elected to have the Massachusetts State Police deploy a robot to gain further intelligence prior to making entry." Eventually the son left the home and was taken to the hospital for an evaluation. He was not charged with a crime.
• In November 2011, a tenant of an apartment building in Hudson called the police saying a man who had locked himself in the bathroom might have a gun and could be planning to harm himself. After police officers failed to convince the man to leave the bathroom, CEMLEC was called to the scene. Following more negotiations to get the man to surrender, they fired a canister of OC gas into the bathroom and removed him. He had reportedly injured himself. No gun was found.
• In December 2011, NEMLEC was called to McLean Hospital, a Belmont mental health facility, after it was reported that an intoxicated man had entered the hospital with a gun in a holster, verbally abused staff and went to visit a female patient he knew. When the SWAT team arrived, the 60-year-old man reportedly aimed his weapon at Belmont police officers. They asked him to drop the gun, which he did.
• In July 2012, the Boston Police SWAT team blocked streets and used its heavily-armed presence and two 'flash bangs' in the effort to prevent a man from committing suicide. When they breached the house he was not there. They eventually found him at his mother's house and took him to the hospital for psychiatric evaluation.
• In August 2012, William Matthews, a North Andover man who had once reportedly been hospitalized for "psychiatric issues," had his second confrontation with theNEMLEC SWAT team after a report that he had assaulted a man. After Matthews opened his door and confronted the police, he "became verbally abusive and said he was not coming out of his house." He did not appear to have a weapon, yet police called in the NEMLEC SWAT team and the Fire Department as well as a K-9 unit and surrounded the house. Additional police arrived from Billerica, Arlington and Waltham. As the SWAT team prepared to rush the house, Matthews came outside and surrendered. He was arrested and taken to a hospital for "emotional issues."
• In August 2012, after a man in Salem threatened to harm himself, NEMLEC arrived, blockaded the street, removed him from his home and took him to the hospital in an ambulance.
• In December 2012, someone phoned the Gloucester police saying that a Gloucester resident, Cleveland Garron, threatened to commit suicide. After ten police officers could not induce Garron to put down the gun he had at his head, NEMLEC arrived. "At first, Garron refused to speak to police, claiming they were not trustworthy, and slammed the door." During the standoff, the SWAT team focused spotlights on the house and the National Grid cut the power. Afterwards tear gas was shot into the windows and onto the porch. Eventually, Garron agreed to put the gun down, was handcuffed and taken to the hospital. He was subsequently taken to the police station and charged with disturbing the peace, disorderly conduct, threatening to commit a crime, possession of a firearm without a license and possession of a dangerous weapon. According to the police log, he claimed to be hearing voices when he was in his cell.
• In March 2013, the New Bedford Special Reaction Team shut down a portion of New Bedford for four hours after a bipolar young man who had stopped taking his medication fired shots from a vacant apartment using a stolen handgun and reportedly said "he wanted to die by police." He eventually surrendered after a "BearCat armored vehicle arrived and tore off the apartment's windows."
• In June 2013, after an Andover man known to the police to be "emotionally disturbed" chased caseworkers and family members out of the house where he lived and then went back inside and refused to talk to the Andover police, the NEMLEC SWAT team was called in, the area around the house was closed off and a staging area was set up at a nearby school. He was eventually extracted and sent to a hospital for evaluation. An Andover police lieutenant saidthat no one else was put at risk and "rumors circulating around the scene that explosives may have been involved were unsubstantiated."
• In September 2013, the North Metro SWAT team accompanied by a Boston Police Department armored vehicle surrounded a house in Everett after an 18-year-old youth who was believed to be mentally ill fired shots at an empty parked car. The young man was arrested after a three-hour standoff during which two neighborhood schools were locked down.
• In December 2013, NEMLEC and the Somerville police surrounded a Somerville house in response to a "domestic dispute gone bad" involving a "delusional" man known to be mentally ill who had a knife. After a four-hour standoff they located the man in an attic crawl space and sent him to an area hospital. He was not charged with any crime.
• In March 2014, after firemen responding to a middle-of-the-night medical call in North Attleboro found an 83-year-old man sitting in a chair with a rifle, a Special Tactical Operations Team, the North Attleboro police, the Massachusetts State Police, a SWAT team, K-9 units and paramedics surrounded the apartment building where the man described as "elderly and distraught" lived, and ordered the other residents to leave. When the man refused to surrender, they shot him with bean bags. After he fell asleep, they entered his apartment, apprehended him, and sent him to a hospital for evaluation.
• In October 2014, Newton police, the Newton fire department, NEMLEC officerswearing heavy armor and carrying military-style weapons and more than a dozen vehicles blocked streets in Newton for three hours in response to a call that there was a "person out of control" with what turned out to be a steak knife. The young man holding the knife was talking to a woman who turned out to be his mother. "When the SWAT team saw a little distance between the woman and the man, they went in and took him down," a police spokesman said. The Newton police chief later said that calling in NEMLEC was justified.
If in doubt, call in the SWAT team!
Less easy to categorize are situations where SWAT teams are summoned by local police just in case something they would prefer not to handle is afoot. They reveal the "mission creep" which has led to the sharp escalation in SWAT call outs across the nation over the last 40 years. They also show how routinized such large-scale paramilitary policing has become. Here are a few examples:
• In January 2012, Belmont police called in the NEMLEC SWAT team, officers from nearby communities and a K-9 unit after a "homeowner heard noises coming from the upstairs apartment whose tenants were away." They thought the person could be armed. The entire building was cleared, the street was closed "with hundreds of police officers present." Searchers came up empty handed since the intruder "apparently fled the scene early on in the incident."
• In March 2014, Dedham police spotted a man entering a house who was suspected of the unarmed robbery of $60 and four cosmetic sets the summer before. After William Barton refused their order to open the door, they called in the MetroLEC SWAT team, which arrived with snipers in tow, and barricaded the entire area while police emailed parents that they would have to come and pick up their children from school. The Massachusetts State Police and Boston Police also arrived on the scene and assisted in the arrest of Barton, who had no weapons and was eventually released on $7,000 bail. In a taped interview, Barton's mother, Linda, said that he didn't respond to the police because they "were banging on the door for him, and the history with Dedham Police is that they beat him up before…What happened was he was afraid to come out of the house with the Dedham Police, afraid that he was going to get beaten again." She claims her son has a record but no history of violence. The Dedham Police deny ever beating him up.
VI. Policing for a safe and free society
The militarization of local police is inherently opposite of strategies that have shown the best results. [50]
Policing the democratic process
After the July 2004 Democratic National Convention (DNC) was officially designated as a 'National Special Security Event,' Boston got its first taste of multijurisdictional militarized policing combined with high tech security procedures and low tech security theater that has in the years since then seriously weakened First and Fourth Amendment protections.
This flagship of electoral democracy was policed by a formidable force of local, state and federal agents drawn from the Boston Police Department and its SWAT team; NEMLEC and MetroLEC which provided 240 officers, a mobile response unit, canine and crisis negotiators as well as SWAT teams; the MBTA police; the Massachusetts State Police which made available three platoons; the Bureau of Alcohol, Tobacco, Firearms and Explosives; the Secret Service, and the US Capitol police. A task force was established to gather and process intelligence, including on what protests were being planned. The Boston Police Department and its partners set up a Multi-Agency Communications Center, a Joint Operations Center to work with the media and a Tactical Operations Center, and agreed on certain "command protocols."
In the run up to the Convention, 75 potent federally-funded surveillance cameras were installed in the vicinity of the Fleet Center as part of a $50 million security effort. The cameras could be monitored in real time in Boston and Washington DC. And they were here to stay. "We own them now," the Boston Police Superintendent said. "We're certainly not going to put them in a closet."
Random, suspicionless searches of bags were instituted on subways and the commuter rail. However, since someone carrying a bomb could leave a station where searches were taking place and simply go to another one where there were no searches, they did not appear to serve an actual security purpose. In October 2006, then-Governor Mitt Romney made these 'security theater' searches permanent.
Then there was the perverse 'Free Speech Zone,' where demonstrators were caged with mesh and razor wire under the ruins of an elevated highway far from the delegates they hoped to influence, while police clad in paramilitary gear and armed with semi-automatic weapons looked down on them from the structure above. When the ACLU and National Lawyers Guild sued on First Amendment grounds, US District Judge Douglas Woodlock declared after touring the site:
I at first thought, before taking a view [of the protest zone], that the characterization of the space being like a concentration camp was litigation hyperbole. Now I believe it's an understatement. One cannot conceive of other elements put in place to create a space that is more of an affront to the idea of free expression than the designated demonstration zone.
However, although he said he regarded it as a "festering boil," Judge Woodlock declined to intercede, citing the security situation.
Although the policing of the DNC in Boston was restrained when compared to how 'National Special Security Events' have been policed elsewhere, it represents a decisive move toward the kind of 'urban securitization' that forces "people to prove their legitimacy if they want to move freely" which Stephen Graham described in his book, Cities Under Siege: The New Military Urbanism.[51] "Explicitly military models," Graham wrote. "increasingly sustain new ideas in penology and law enforcement doctrine and technology, as well as civilian surveillance, training, simulation, and disaster assistance.' [52]
Policing the 'insurgents' at home
One such 'explicitly military model' has been adopted by law enforcement in Springfield and South Holyoke. C3 Policing – 'Counter Criminal Continuum' – was brought to Springfield by a former Green Beret who is also a Massachusetts state trooper, Michael Cutone. On his return from Iraq in 2009, he and Thomas Sarrouf, another state trooper who had been in Special Operations in the Avghani region of Iraq, sold Springfield's then-deputy police chief John Barbieri on their plan to adopt the Avghani Counterinsurgency Operations (COIN) model in Springfield's North End.
Why? According to an article in the scientific journal Nature, "When Cutone returned from Iraq, he realized that the chaos he saw in Springfield bore a strong resemblance to what he had seen in northern Iraq where he had been employed." Gangs in the North End of Springfield played the role of insurgents in Iraq. Gangs, like insurgents, could be defeated through intelligence collection and winning the support of the local population who become the "eyes and ears" of a militarized law enforcement in return for enhanced security.
In Springfield (pop. 153,000) approximately half the population is Latino and African American, and the median household income of $35,603 is only slightly more than half the state average, with 27% of the population beneath the poverty line. The home to Smith & Wesson, the nation's largest producer of handguns, in 2011 it ranked #12 in per capita violent crime, according to Business Insider.
An article written by Officer Cutone and other promoters of C3 Policing in Police Chief Magazine attributed the crime spurt in Springfield to economic factors, the arrival of a Puerto Rican gang determined to take over the drug trade, and the Police Department's "departure from the community policing model that had existed prior to budgetary reductions in personnel." They presented the program as the '"sweet spot' whereby community policing, intelligence-led policing and COIN interact."
How does C3 Policing adapt 'community policing' for its own domestic counterinsurgency purposes? On its website it has a page outlining the "difference" between old-style "community policing" and "C3 policing." In the latter category are some features that are absent from its "community policing" list: "Legitimacy is crucial to achieving our Goals;" "Intelligence Drives Operations;" "Security Under the Rule of Law is Essential;" "Gangs must be Separated from their Cause and Support."
What C3 Policing now refers to as its community policing ingredient is the establishment of regular meetings for North End residents to give "actionable intelligence" about crime and their ideas about how to "reduce gang activity and violence." The intelligence analysis component is being provided by Kit Parker, a US army major teaching and researching at Harvard University after returning from Afghanistan. When he learned about C3 Policing, Parker got his students involved "to bolster the initiative with state-of-the art data-gather and analysis." His class established a "war room" where they would analyze information collected on "gang members and criminals" by using Lighthouse, a military data-collection system developed to gather information on insurgents in Afghanistan. It performs data mining and link analysis to map connections and associations as troopers collect data on criminal histories, social networks and tattoos when they book suspects.
Although the compiling of data on alleged 'gang members' is not new [53] – anti-gang efforts have relied on the creation of databases of suspected gang members and their connections since Boston's Operation Ceasefire and New York's Compstat strategy of the mid 1990s and the Commonwealth maintains its own MassGang database – never before have young people been so pointedly demonized as hostile 'subversives' against whom cutting edge military technology should be deployed. Will it make the community safe?
While the Springfield Police Department with its $1 million mobile command center touts C3 Policing as responsible for a decline in the crime rate in targeted areas, Springfield was ranked as the 10th most dangerous mid-sized city in the nation in 2013 where nearly all indicators of violent crime had increased since 2012, according to the website Law Street. It further reported that the "jury is still out" on the Springfield Police Department's "counterinsurgency strategy."
Major Parker "acknowledges that a domestic theory of counter-insurgency is a tough sell when many believe it has failed abroad." But he hopes it will work better at home, and State Trooper Cutone has advised police departments from neighboring South Holyoke to Salinas, California on how to apply counterinsurgency tools to deal with gang activity. His program has received largely favorable coverage in The New York Times and on 60 Minutes. While one commentator (Spencer Ackerman) has called fora military general to take over a metropolitan police department, at least one police officer (the LAPD's John Sullivan) has been more cautious, warning that although certain counterinsurgency methods may overlap with 'community policing,' the checkpoints, biometrics, pervasive surveillance, house-to-house searches and large-scale use of informants to gather 'intelligence' are not a good fit with our constitutional democracy.
In 2009, the year the counterinsurgency approach was first introduced to the Springfield Police Department, Darryl Moss, an aide to the mayor, had this to sayabout the gang problem in Springfield:
When you frame it as a public health model, you understand that these are young people who are from a series of issues that we need to find a resolve to. We need to find the resources to support them. A lot of them are dealing with homelessness; food, shelter, and mental health issues come into play. And they'll never get the treatment or the resources that they need as long as we continue to frame it as a public safety issue. Some of these are young children that we're talking about — some of them as young as 11, 12 years old. So when you look at it from a public safety model it's like, these are monsters, these are urban terrorists — let the police department do what they do.
These are the same young people, disproportionately Black or Latino, whose schools are patrolled by armed and uniformed police officers, paid for out of the education budget. Springfield students get arrested in school for 'acting out' and other forms of misbehavior that never used to be considered criminal at a significantly higher rate than students in Massachusetts' other large urban schools districts, Boston and Worcester. [54] From the streets to the schools the message in Springfield is the same: "Let the police department do what they do."
That is likely to be more C3 Policing now that John Barbieri, the deputy police chief who initially welcomed the counterinsurgency model to Springfield's North End, has become the police commissioner with plans to expand it to other parts of the City.
Policing for democracy
In his provocative book The Collapse of American Criminal Justice, the late eminent legal scholar Professor William Stuntz documented the emergence by the end of the 20th century of "the harshest" justice system "in the history of democratic government." [55] It was fuelled by the drug war that has continued to swell prison populations even as the crime rate dramatically declined beginning in the mid 1990s.
"Constitutional democracies," Stuntz wrote, "face two opposite risks: chaos or oppression, too little law enforcement or too much – and the wrong kind." [56] The US, in Stuntz' view, needs "a large dose of the local democracy that once ruled American criminal justice"[57] if it is to arrest the move towards too much law enforcement of the wrong kind where power over crime and punishment is increasingly removed from local law enforcement agencies and centralized in the hands of state and federal authorities.
The process of making "criminal law enforcement more locally democratic" would include building relationships through "community policing" so local police become "more responsive to the wishes of those who live with the worst crime rates" and repair some of the damage caused by the "shock and awe" paramilitarized policing that generates anger and sympathy for the targets of raids, and a high error rate.
The term 'community policing' has meant different things to different law enforcement agencies during different periods, and delving into them is beyond the scope of this report. But this definition put forward in 1992 by Robert Friedmann is a useful reminder of the essential components of local democratic control:
Community policing is a policy and a strategy aimed at achieving more effective and efficient crime control, reduced fear of crime, improved quality of life, improved police services and police legitimacy, through a proactive reliance on community resources that seeks to change crime causing conditions. This assumes a need for greater accountability of police, greater public share in decision making, and greater concern for civil rights and liberties.
The requisites of accountability, public decision-making and a greater concern for civil rights and liberties are at odds with the increasingly federalized 'homeland security' policing paradigm which has emerged since 9/11, with its emphasis on secretive surveillance technologies, data-driven intelligence and militarized law enforcement.
Karl Bickel, a senior policy analyst in the Department of Justice's COPS Office, has questioned whether "the growing militarization of our police doom community policing?" He wrote in the December 2013 COPS e-newsletter:
Police chiefs and sheriffs may want to ask themselves—if after hiring officers in the spirit of adventure, who have been exposed to action oriented police dramas since their youth, and sending them to an academy patterned after a military boot camp, then dressing them in black battle dress uniforms and turning them loose in a subculture steeped in an 'us versus them' outlook toward those they serve and protect, while prosecuting the war on crime, war on drugs, and now a war on terrorism—is there any realistic hope of institutionalizing community policing as an operational philosophy?
There is another way accountability, trust and local decision-making are being undermined in 21st century policing. Police who are deputized to work with federal authorities like the FBI are no longer accountable to their local communities or even their states. We had an illustration of this in the aftermath of the Boston Marathon bombing when two Massachusetts State Troopers accompanied the FBI to Orlando, Florida to interview Ibragim Todashev, a Chechen acquaintance of one of the alleged Marathon bombers.
On May 22, 2013, after an unarmed Todashev allegedly implicated  Tamerlan Tsarnaev in the murder of three men in Waltham on September 11, 2011, he was shot dead by the FBI agent who was interviewing him. Not surprisingly given the fact that FBI internal investigations have exonerated FBI agents in every one of the 150 shootings involving the Bureau since 1993, the Bureau's internal review claimed theshooting was justified and the Florida Attorney General's office refused to bring charges against the shooter. In May 2014, The Boston Globe was able to "remove improperly created redactions" to discover the name of the FBI agent who killed Todashev. He is Aaron McFarlane, who previously had "a short and troubled stint as an Oakland police officer."
Even though Massachusetts State Troopers who were members of the Boston JTTF were present when the killing occurred, the Commonwealth refuses to conduct its own independent inquiry. The ACLU is now suing the FBI to find out more about how the Boston JTTF operates.
This lack of transparency has extended to the everyday actions of SWAT teams, whether local, regional, state or federal. Following the killing of Eurie Stamps in Framingham, it took significant community pressure before the Framingham Police Department agreed to make public the number of its annual SWAT deployments.
To our knowledge, only two states– Maryland in 2009 and Utah in 2014 – have insisted on knowing how often SWAT teams are used and for what purpose.
After a SWAT team mistakenly raided the Maryland home of Cheye Calvo, the mayor of Berwyn Heights, killing his two dogs, a public outcry induced the legislature in 2009 to pass the SWAT Team Activation and Deployment Reporting bill.  It requires law enforcement agencies with SWAT teams to report every six months to "civilian authorities and the public on the number, general location, purpose, authorization, and results of SWAT deployments."
The Maryland SWAT team reports indicate that in the last six months of 2009, SWAT teams were deployed more than 800 times, or some 4.5 times per day. But four years later a bill which would have required the SWAT teams to provide more information about their deployments – including a description of "nonstandard equipment used" – died in the Maryland legislature, and the Maryland SWAT data collection law expired on June 30, 2014.
Along with accountability, public decision-making has been a casualty of post 9/11 secrecy. Local communities rarely know what they are in for when police departments decide to outfit their officers with military gear and make applications for federal grants. As The Boston Globe reported, a "random survey of 12 departments" found that not a single one had notified the public that it was getting military weapons under the 1033 program. The Globe quoted one police chief, Brian Kyes of Chelsea, who stated that public opinion should be taken into account when these kinds of weapons decisions are made: "If the community is strongly against this we're going to have to re-evaluate."
After surveillance cameras were secretly installed in nine Boston area communities with the help of UASI grants and Cambridge Chronicle reporter Erin Smith broke the news, there was significant local pushback from the public which forced a discussion of the camera network onto the agenda of local government. Early in 2009 the Cambridge City Council ruled unanimously against activating the cameras, while in Brookline, after the Town Meeting voiced its strong objections to the cameras, the Selectmen decided to have them turned on only at night.
In the aftermath of the Boston Marathon bombing, the police departments in those communities wanted these policies to be overturned, despite studies that show surveillance cameras are not effective at deterring crime and evidence that the public is already being so widely monitored by public and private cameras that there is no shortage of video footage for police to examine after a crime has been committed. [58]After a vigorous debate before the Cambridge City Council, the Council voted that there had to be a public process and an affirmative vote of the Council before these or any other surveillance cameras were activated in the City.
For police to maintain their 'legitimacy,' they must demonstrate that they respect the civil liberties and civil rights of all members of the communities they patrol. But relationships of trust are unlikely to flourish as long as local police have a separate federal agenda with no accountability to or oversight from the community, and as long as sections of the population, including political dissenters, Muslims and immigrants, are targeted for special scrutiny. The more time police spend filing Suspicious Activity Reports, chasing down vague tips and attempting to keep abreast of massive amounts of data, the less time they have to spend on traditional law enforcement work and to respond to calls for assistance that may not seem 'priorities' but help forge close community ties.
Statistics show that Massachusetts law enforcement agencies do a relatively poor job of solving violent crime. In fact, the Commonwealth ranks sixth in its percentage of unsolved murders, with Boston police clearing only 37 percent of its homicides in 2011 compared to a national average of about 60 percent.
Among those unsolved murders is the vicious triple killing in Waltham on September 11, 2011 in which Tamerlan Tsarnaev, the alleged Boston Marathon bomber, was recently implicated. As The New York Times reported on July 10, 2013, "relatives and friends" of the murdered men "have long contended that the authorities were too quick to write off the murders as the unfortunate outcome of a low-level drug dispute and that they failed to do basic policing work that could have solved the case."
If Tsarnaev is eventually tied to that crime beyond a reasonable doubt (and there is reportedly mounting forensic evidence that links him to the Waltham murder scene), it would appear that meticulous, old fashioned police work had the potential to solve the crime and thereby prevent the Marathon bombing, while 'pre crime' national security policing did nothing of the sort.
Fear of 'terrorism' and the colossal resources that have been poured into building the infrastructure of a surveillance state seem misplaced when concrete facts are taken into account. Fatalities in the US as the result of a terrorist attack are extremely rare, while the US with its 300 million firearms had 335,600 firearms-related deaths (including suicide) between 2000 and 2010. That is a public safety and public health issue of huge proportions, and yet it does not receive nearly the attention or the funds lavished on the fight against 'terror.' This visualization of the many thousands of firearms-related deaths during year following the December 14, 2012 massacre of school children at Sandy Hook elementary school is a testament to our skewed national priorities.
It turns out you are as likely to be killed by moving your furniture as you are by a terrorist attack – or by a toddler with a gun. To quote Edward Snowden, "Bathtub falls and police officers kill more Americans than terrorism, yet we've been asked to sacrifice our most sacred rights for fear of falling victim to it."
The kind of society we want
The Sandy Hook tragedy triggered calls for arming teachers, for arming school police and beefing up the nation's SWAT capacity. But will endlessly ratcheting up firepower and making schools places where six and seven year olds can get taken away in handcuffs build safe and healthy communities? Or are there other avenues we can take to address this nation's deeply-rooted problems, including its resort to violence at a rate far exceeding other industrialized countries?
What kind of society do we want to live in? Do we want our police forces to be responsive to community needs and receptive to local decision-making? If so, one way of beginning the discussion about whether those needs are being well served by the model of the increasingly militarized, 'national security' policing described in this report is to weigh the costs and benefits to the community of, for example, a single SWAT raid.
The midnight Framingham raid that killed Eurie Stamps before the Framingham SWAT team was abolished involved no fewer than 28 personnel from various agencies, many or all of whom may have been getting overtime pay for their participation. Was it a good use of law enforcement funds, time and personnel to mount such an intimidating force to serve a warrant to search for evidence of drugs, when no mention is made on the warrant of a weapon being present?
The death of Eurie Stamps drives home the need for police using military-grade weapons to be extremely well-trained. But is it a good use of law enforcement resources for the 12 current Framingham SWAT team members to receive a total of 3360 hours collectively of annual training in SWAT weapons' use and SWAT procedures – that's 280 hours each – to carry out just five actions during the year? Exactly how 'high risk' were those actions? Were they really beyond the capacity of the regular police officers? And might a case not be made that using those 3360 hours for more on-the-beat policing would have made Framingham a safer community?
The same questions should be asked of the enormous outlays for the mobile command posts that Framingham and several other Massachusetts towns now have, for SWAT BearCats, for menacing 'crowd control' devices and much of the apparatus of the surveillance state. We know from the Senate subcommittee report on fusion centers that tens of millions of dollars have been poured into these surveillance hubs without a single terrorist plot being uncovered, and with a lot of useless, redundant or misleading information being produced.
Take the Boston Regional Intelligence Center which used federal funds to file 'intelligence reports' on wholly non violent protest activity that it classified as 'extremist.' Much has been made by government officials of the important role played by the DHS-funded apparatus (including the fusion centers) and training opportunities in facilitating Boston's coordinated response to the bombing. But the fact remains that despite the post 9/11 emphasis on sharing information, and although both the BDP and the FBI had berths at the BRIC, the Boston Police Department was in the dark about the FBI's investigation of  Tamerlan Tsarnaev. That information remained in the FBI's eGuardian system – which BRIC officials with clearance could have accessed proactively, but didn't.
There is little evidence that either of the two secretive, unaccountable Massachusetts fusion centers are serving the public interest and promoting public safety. According to the Congressional report on fusion centers and Senator Tom Coburn's report on homeland security funding, the DHS is not aware of how much money it is spending on fusion centers and does not even know how many fusion centers there are. The UASI and other grants it has given out have financed all sorts of boondoggles that have contributed nothing to public safety, while federal funds for on-the-beat policing have been sharply cut back.
"Like many urban police agencies," wrote Anthony Braga, David Hureau and Christopher Winship, "the Boston Police Department's ability to maintain its community crime prevention efforts was challenged by post-September 11, 2001 changes in priorities and funding. During this time period, the Boston Police had difficulty maintaining staffing levels as the city and state faced severe budget woes and the federal government channeled its funds into anti-terrorism programs. Between 2000 and 2005, the Department's patrol force decreased by 200 officers to about 1300 active officers…as a result of manpower shortages, it became very difficult for the Boston Police to be strategic in responding to crime problems as they struggled to field enough officers to cover their basic operations…". [59]
Despite its diminished numbers, the 'war on drugs' has remained a BPD priority, even as its legitimacy was being challenged by the unfolding Massachusetts drug lab scandal. In the three weeks following the Marathon bombing, six people were killed in Boston and nearly two dozen wounded by gunfire, leaving some Boston residents wondering why there was not a similar outpouring of sympathy for the victims of violence in communities of color.
At least part of the answer lies in the way largely 'minority' communities have been criminalized and dehumanized in the media and public mind by the 40-year-long discriminatory, aggressively punitive 'war on drugs.' While it provides bodies for a prison industry that has become an economic lifeline in some regions and funds for police departments through asset forfeiture, the trillion dollar 'war' has made our streets less safe by making the drug trade more profitable. It has consumed resources that could be devoted to ending drug addiction, promoting public safety and enhancing the educational and employment opportunities available to young people. It is also driving the militarization of the police.
If the 'war on drugs' has made the United States the world's leader in the per capita rate at which it imprisons its citizens, the 'war on terror' has built the globe's most powerful surveillance system – developments that subvert America's claim to be the 'land of the free' without necessarily making the nation more safe.
Lessons from the Marathon bombing
Events in Boston in April 2013 shine a harsh light on the post 9/11 surveillance state and the overly militarized, federalized homeland security policing that has emerged from a blending of the 'war on drugs' and 'war on terror.' Rather than keeping the focus on investigating and solving actual crimes such as the murders committed in Waltham on September 11, 2011, law enforcement agencies are compiling 'suspicious activity reports,' spying on Muslim communities and entering names in bloated databases that potentially criminalize large numbers of innocent people without uncovering terrorist plots.
As ACLU of Massachusetts executive director Carol Rose told the May 19, 2014 The New York Times, "What we learned in the Boston Marathon bombing is that it wasn't that the FBI didn't have enough information – it was drowning in information." Former FBI agent Mike German added, "You had all this information coming in, and nearly all of it wasn't helpful, so agents become accustomed to leads going nowhere and everything they opened became an exercise in how quickly they could close it."
According to German, the FBI's post 9/11 focus on counterterrorism means that new recruits to the FBI never learned the basic policing skills essential to criminal investigations.
The pitfalls of 'national security' policing are evident in the report compiled by the Inspectors General of the Intelligence Community that has been made available to the public in an unclassified – but redacted – form. It gives a chronology of events leading up to the bombing, including steps not taken by the FBI Special Agent who conducted a cursory assessment of  Tamerlan Tsarnaev after the FBI and CIA received warnings about him from Russian intelligence. For instance, the agent didn't search all major FBI databases for information and never questioned Tsarnaev about his forthcoming trip to Russia flagged by the intelligence warning. (He told the Inspectors General he "did not know why he did not ask about plans to travel to Russia.") In a heavily redacted section, the report states that evidence existed prior to the bombing that Tsarnaev intended to travel to Russia to connect with extremist groups, but this was not discovered until after the bombing.
Tsarnaev travelled to Russia on January 21, 2012, a few months after the brutal Waltham murders that the FBI has recently tied him to. He returned to the US six months later and was not flagged as a 'subject of interest' at the airport.
The report also documents multiple problems with the watch-listing system and the information available to Customs and Borders Protection officials. Crammed with hundreds of thousands of identities, anti-terrorism databases are shot through withvague and inaccurate information.
Back in July 2013, Boston Police Commissioner Ed Davis testified before the Senate Committee for Homeland Security and Governmental Affairs about the need to improve "information sharing" with local law enforcement members of the Boston Joint Terrorism Task Force and all the other FBI-led JTTFs. He told Committee members that "the current MOU for JTTFs around the country needs to be amended to mandate immediate sharing of terror information that poses a threat to our cities."
This point was amplified by the Inspectors General report, which added in a footnote that "the FBI and DHS do not have an MOU or other agreements to provide fusion centers with access to JTTF information." It appears that due to turf and trust issues, the DHS' 'information-sharing environment ' with fusion centers as its hubs was little more than a one-way street.
Police Commissioner Davis had nothing but praise for the actions of first responders which he attributed to the "preparedness training" provided by federal funding and especially Urban Shield. Clearly the coordinated effort that enabled the scene to be cleared of spectators and the injured to be taken to hospitals within 22 minutes reflects the effectiveness of emergency training and multi-agency communication.
However, the emphasis of Urban Shield exercises is not on how to respond when people are hurt in some kind of a disaster and need immediate medical attention. What is troubling is its militarized framework, and the multijurisdictional paramilitary policing dominating Urban Shield drills.
The takeover of Watertown streets during the Marathon manhunt shows the limitations and potentially lethal consequences of a massive multi-agency militarized response.
The Harvard study documents the problems of having so many heavily-armed law enforcement officers from so many organizations – many of them 'self-deployed' and unfamiliar with the area – taking part in a "high-stress, emotion-laden event." The authors state: "When numerous people from different agencies arrive in darkness with adrenalin flowing…not knowing the other officers present (or even knowing which other organizations are represented at the scene), and anxious to be helpful and involved, the result can be chaos and endangerment."
The report describes a chaotic situation that initially impeded the hunt for the suspect when police were "hindered in their pursuit by the snarl of police vehicles parked at the scene." It documents the danger caused by the firing of hundreds of rounds, as bullets penetrated homes and vehicles. The chaos and friendly fire almost took the life of MBTA Officer Richard Donohue, who nearly bled to death when the Watertown police officer taking him to the hospital had "to drive several blocks out of his way to avoid streets blocked by a tangle of police cars that had been left by police officers from many different agencies." Police with guns drawn surrounded pedestrians and vehicles, creating a "potential crossfire hazard" and at various times rivalries among SWAT teams caused "hurt feelings" and got in the way of mission performance: "It appears that in the heat of the moment of responding the desire to be more involved in an important event may have affected the behavior of some responders." When the call went out for a 'tactical team' to extract the Dzhokhar Tsarnaev from the boat in which he had been hiding that was just outside the search perimeter, "a very large number of police officers moved toward the dispatched address, resulting in a confused scene in which some officers appear to have been in the line of fire of others." There was the "contagion" of gunfire aimed at the boat while the commander's order to ceasefire was ignored.
And so Watertown became a poorly-disciplined militarized zone, while the people of Watertown and the Greater Boston area did not know whether the order to "shelter in place" meant that martial law had been imposed. That single day of lockdown cost the local economy as much as $333 million.  The loss to our civil liberties is beyond calculation.
Radley Balko, who has for years charted the growing militarization of America, hasurged a national discussion on the tactics used in the Marathon manhunt.
"The aim of the terrorist," he points out, "is to use mass panic and fear as multipliers – to bait us into inflicting exponentially more harm on ourselves than he could ever do himself…. In shutting down Boston and bringing up the National Guard, we let the bombers inflict hundreds of millions dollars more in damage than they possibly could have inflicted on their own, not to mention the less calculable harms, like the temporary suspension of the Fourth Amendment. If we let Boston become our default response to these kinds of attacks, we essentially give future terrorists a blueprint for how to shut down a major American city. We'll then have helped create a Tsarnaev legacy that easily transcends the events of the 2013 Boston Marathon, and one far more potent than the two suspects could ever have imagined."
To remind ourselves what is at stake, we can heed the voices of some of the Watertown residents who were on the front lines. Reluctant to appear divisive as their town was trying to digest the events of the previous month, a small group came together on May 14, 2013 to share their experiences and their concerns.[60]
Looking back with the benefit of hindsight, they felt that the way the hunt was conducted made the streets of Watertown a good deal less safe, as the massive police presence turned their town "into a war zone." They did not necessarily fault the initial firefight when, they said, the walls of neighboring houses were pockmarked with bullets, as some terrified residents took refuge in their bathtubs out of fear of being caught in the line of fire. They reasoned that the police at that time did not know what they were up against.
The group was more critical of subsequent events. It was the shared view of this particular segment of the Watertown community that police overkill had imperiled public safety and ramped up fears in ways that could have a lasting impact on children. Careful police work that followed concrete clues – such as the scent that could have led searchers the short distance from the car the younger brother abandoned to the boat where he hid if it hadn't been trampled by the horde of officers converging on the scene – might have greatly shortened the town's ordeal, and eliminated the need for a million people to 'shelter in place.'
They expressed surprise that with so many police officers patrolling the streets – many of whom clearly had no idea where they were – the searches of yards and the structures in them weren't more thorough. One resident said about 20 men in SWAT gear came to her porch early in the morning and questioned her, but never looked at a shed in her yard that could have been a perfect hiding place. The boat where the younger Tsarnaev was hiding could be seen from the road and was not far from where he abandoned his car, and yet no one bothered to check it. If they had, there would have been no need to 'lock down' Watertown and surrounding communities for such a long period of time, disrupting so many businesses and lives. On what grounds, one resident wondered, could they conceivably justify shutting down so much of Greater Boston?
After a frightening day during which "we were experiencing functional martial law," the 'shelter in place' order was finally lifted even though the suspect had not been found. But then, suddenly, in what appeared to eyewitnesses to be a major military operation, "dozens of heavily-armed police came down Franklin Street with guns blazing and their adrenalin surging." People with small children were in a state of panic, as huge flash bang explosions were set off and the boat in which the younger Tsarnaev brother was hiding was riddled with bullets. One woman said she feared for the life of a boy who looked to be about ten years old. He had run out of his house to play when the 'shelter in place' order was lifted. Franklin Street remained closed off for more than ten days, while the police told residents that if they came across exploded ordnance in their yards, they should report it.
What we should now be asking ourselves is this: what kind of country will we become if we allow our fears to trump our values, and make no effort to rein in the kind of adrenalin-filled SWAT glory on display in the streets of Watertown?
Please note that by playing this clip YouTube and Google will place a long term cookie on your computer.
VII. Police as 'trusted guardians of public safety' [61]
We were informed that many officers purchase expensive, high-powered guns as soon as they are allowed, using their own money. Officers see the guns as status symbols. APD [Albuquerque Police Department] personnel we interviewed indicated that this fondness for powerful weaponry illustrates the aggressive culture. [62]
We observed a large sign hanging in the vehicle bay of a district station, identifying it as a 'forward operating base, a military term for a small, secured outpost used to support tactical operations in a war zone. This characterization reinforces the view held by some – both inside and outside the Division – that CDP [Cleveland Division of Police] is an occupying force instead of a true partner and resource in the community it serves. [63]
In its investigations into the use of excessive force by the Albuquerque Police Department and the Cleveland Division of Police, the DOJ's Civil Rights Division took the long overdue step of acknowledging that the "aggressive culture" accompanying increasingly militarized policing endangers both communities and the Constitution.
The cry to "get the military off main street" that resounded in the wake of the repression of protesters in Ferguson, Missouri last August got this response from Attorney General Eric Holder: "At a time when we must seek to rebuild trust between law enforcement and the local community, I am deeply concerned that the deployment of military equipment and vehicles sends a conflicting message."
President Obama immediately promised a review of the 1033 Program, stating that "there is a big difference between our military and our local law enforcement, and we don't want those lines blurred. That would be contrary to our traditions."
The subsequent White House report examining the transfer of equipment from the Department of Defense and other federal agencies to law enforcement agencies pointed to possible reforms that would represent significant steps forward, but will not by themselves restore clarity to a line that has been thoroughly blurred by the 'war on drugs' and the 'war on terror.' Calling on the President to issue an Executive Order to direct relevant agencies to work with LEAs and civil rights/civil liberties agencies to come up with specific recommendations within 120 days, it suggests that these recommendations could include: more transparency and better monitoring of weapons acquisition programs, more interagency coordination, better record keeping including after-action reports detailing how federally-supplied weapons have been used, and better training programs to address the "concern that some training programs may unintentionally incentivize the use of military-like tactics and equipment when unnecessary in public safety." It states that "civil rights/civil liberties training may prove especially useful to strengthen community policing approaches that position law enforcement officials as trusted guardians of public safety."
But judging from the tenor of the report, the executive branch is unlikely to put brakes on the flow of military weapons to law enforcement agencies. And although a few Members of Congress have expressed their concerns at the militarization trend, the 'Stop Militarizing Law Enforcement Act' [H.R. 5478] that Reps. Hank Johnson (D-GA) and Raul Labrador (R-ID) introduced on September 16, 2014 did not get out of the Armed Services Committee before the Congressional session ended. Among other things, it would have prevented the transfer to local law enforcement agencies of high-caliber weapons, grenade launchers, armed drones and armored vehicles, and would have enforced tracking mechanisms to account for equipment that had already been transferred.
A similar restraint on the transfer of military equipment to local LEAs that was proposed by Rep. Alan Grayson (D-FL) as an amendment to the Defense Appropriations Act was defeated in June 2014 by a vote of 62-355. The only Members of Congress from Massachusetts who voted in favor of the amendment were Rep. Jim McGovern and outgoing Rep. John Tierney.
The nation's long-term security would be better served if federal funds were spent on restoring our failing infrastructure, addressing the challenges of climate change and curbing rampant gun violence, rather than on equipping police 'warriors' to fight a failed 'war on drugs' and enlisting police as intelligence gatherers to feed the surveillance machine. But there appears to be little likelihood that Congress at any time soon will consider repealing the federal law authorizing the 1033 program (10 USC § 2576)or placing meaningful limits on the weapons handed over to police forces by the Department of Defense. And beyond seeking to score political points on immigration, it shows no inclination to reassess how the Department of Homeland Security uses its nearly $40 billion yearly budget.
Polls carried out by the Huffington Post/YouGov and the New York Times/CBS Newsshow the extent to which Congress is out of synch with public opinion on militarized policing, which is opposed by a clear majority of Americans. In the August 2014 New York Times/CBS poll, 68% overall and 80% of African Americans said that military weapons should be reserved for the military.
How can we build on this public sentiment and begin to rein in unchecked police militarization and the secretive federalized policing that is eroding community trust?
Thanks to the newly-available data showing Department of Defense transfers of weapons and other property to local police departments, many communities now have information that can be used to engage with local police forces and elected officials about the need for public input and transparency as recommended by the White House report. Police departments that want to order military equipment through the 1033 Program or purchase it with federal grants should be required first to get the approval of the communities they serve. A similar approval process should be mandated before police departments apply for or purchase surveillance technology.
Massachusetts residents can also demand transparency in how municipal and regional SWAT teams are being deployed, and insist that they only be used in scenarios that are truly 'high risk,' which present a clear and not just a conceivable imminent threat to the lives of civilians and/or police personnel. Assuming that the ACLU of Massachusetts prevails in the suit it brought against NEMLEC, the self-described 'non profit' Law Enforcement Councils may eventually be forced to divulge information about SWAT operations that can be vital in the push for accountability and the kind of 'best practices' outlined in these ACLU recommendations.
At the state level, residents can push for legislation mandating the appropriate use of SWAT teams and instituting other reforms detailed by the ACLU. At the same time, they can put pressure on their elected legislators to pass crucial privacy bills this year.
Massachusetts, the nation's 'cradle of liberty,' should lead the way in rolling back suspicionless surveillance and overly militarized police practices and policies to ensure that our communities are neither war zones nor Constitution-free.
---